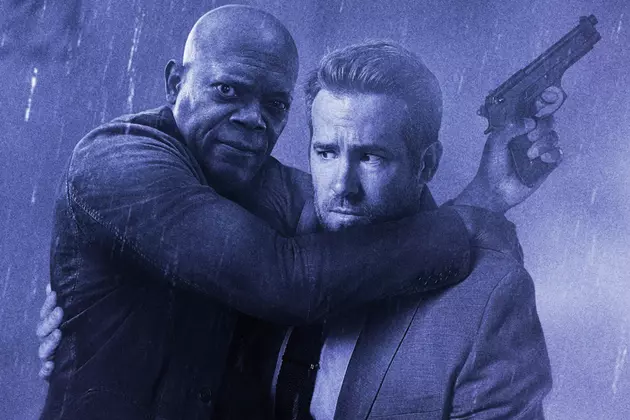 Weekend Box Office Report: Audiences Take a Shine to 'The Hitman's Bodyguard'
Lionsgate
Welcome to August, where overall weekend grosses can decline for three consecutive weekends  —  $122, $116, and $95 million, respectively  —  and a new action-comedy can be the surprise winner of the weekend. Audiences might still be interested in creepy dolls, but it was a hyper-violent buddy film about professional killers that took home the gold. Here's the box office projections as of Sunday afternoon:
Film
Weekend
Per Screen
1
The Hitman's Bodyguard
$21,600,000
$6,396
$21,600,000
2
Annabelle: Creation
$15,500,000 (-55%)
$4,376
$64,044,221
3
Logan Lucky
$8,050,182
$2,656
$8,050,182
4
Dunkirk
$6,700,000 (-38%)
$2,048
$165,508,079
5
The Nut Job 2: Nutty By Nature
$5,113,278 (-38%)
$1,277
$17,696,923
6
The Emoji Movie
$4,350,000 (-32%)
$1,559
$71,767,352
7
Spider-Man: Homecoming
$4,250,000 (-29%)
$1,815
$314,051,381
8
Girls Trip
$3,844,030 (-40%)
$1,912
$103,986,175
9
The Dark Tower
$3,720,000 (-52%)
$1,184
$41,604,378
10
Wind River
$3,025,236 (+385%)
$4,359
$4,138,505
In first place this weekend is The Hitman's Bodyguard, which led the pack with $21.6 million dollars. That's not exactly Deadpool money, but it is a step in the right direction for Ryan Reynolds, whose recent string of non-superhero action movies  —  R.I.P.D., Self/Less, Criminal, and Life  —  have all failed to break $13 million in their respective opening weekends. Given that the budget for The Hitman's Bodyguard came in at only about $29 million, this should be a pretty solid win for everyone involved. Also, Hollywood, c'mon: why would you ever make a movie like King Arthur for $175 million when you can make action-comedies like this for under $30 million? People say that August is where all the bad movies go to die, but when you look at the margins, I'd probably rather put my money on an August release than a May release if I'm only looking for a quick return.
The other big release for this weekend, Steven Soderbergh's Logan Lucky, finished in third place with just north of $8 million dollars. Soderbergh's box office returns have always been a bit split between his mainstream releases and his more esoteric work; for every Magic Mike or Ocean's 13, there's a handful of smaller titles that would open in the $8 — $10 million range. Thus, the $8 million opening for Logan Lucky isn't too far off from the norm, and it does fall within the $5 to $12 million range put out by Variety earlier this week, but all of that comes with a bit of a caveat. Back in July, Soderbergh told The New York Times that even a "modest" $15 million opening would be a win for his new production company, suggesting that maybe $8 million would be a lot less tenable for the director and his financiers. Who knows how this one will shake out for the studio?
While not strictly a new release  —  the film has aggressively expanded from its limited release of a few weeks ago  —  Wind River did crack the Top 10 this week in last place with a $3 million dollar weekend. Hell or High Water, the previous film by writer-turned-director Taylor Sheridan, is probably a good benchmark for this one: like Wind River, it cost about $11 or $12 million dollars to make and was slowly rolled out into theaters as a limited release. In fact, both movies are putting up remarkably similar grosses at the same point in their releases  —  theater-wise, at any rate  —  which bodes well for Wind River to push up around mid-$20 million mark occupied by its predecessor when all is said and done.
That does it for the new(ish) releases, so let's take a look at the returning titles. In second place this weekend is Annabelle: Creation, which grossed $15.5 million and has now earned more than $160 million worldwide. Some trends to follow in the weeks to come? While Annabelle: Creation improved upon the second weekend drop of both Annabelle and The Conjuring 2, the film is still trailing both of its predecessors on a per-theater average, with its larger opening perhaps disguising a tiny bit of franchise fatigue. In fourth place this week is Dunkirk with $6.7 million; Christopher Nolan's film has pushed up over $165 million and is now within striking distance of Interstellar at $188 million. It took that film six weeks to break the $165 million mark, so odds are pretty good that Dunkirk will become Nolan's fifth-highest grossing movie before long.
The Nut Job 2: Nutty By Nature finished in fifth place with $5.1 million and a surprisingly small 38% drop, which is good news for those accountants measuring the film's decreased-less-than-we-expected ratio as a means to financial solvency. It's still far behind the first film as far as overall gross, however, and unless things pick up, it's going to be a rough August for this one. In sixth place is The Emoji Movie with $4.3 million. In keeping with my promise last weekend to no longer analyze its prospects at the box office, I will now do what I did then: that is, share the link to our 'Critics Are Raving' trailer for the film. It's more than the movie actually deserves.
In seventh place with $4.2 million is Spider-Man: Homecoming, which has now inched past Iron Man 2 to become the 12th-highest grossing movie in the Marvel Cinematic Universe. Somewhere, somebody probably popped some champagne for that one. In eighth place is Girls Trip with $3.8 million. As I noted last week, this officially makes Girls Trip the third-cheapest movie of 2017 to crack the $100 million mark, behind only Get Out and Split. Keep an eye on Annabelle: Creation, though; if that film is able to crack the $100 million mark near the end of its theatrical run, that will bump Girls Trip down to fourth place. Finally, in ninth place this weekend is The Dark Tower, which looks set to limp out of the Top 10 with a $3.7 million dollar gross. Don't cry for the Gunslinger, though, as that movie has now grossed $70 million worldwide against a $60 million budget. Sure, that's not great, but 2017 has been much, much worse to other studio releases.
More From News/Talk 95.1 & 790 KFYO