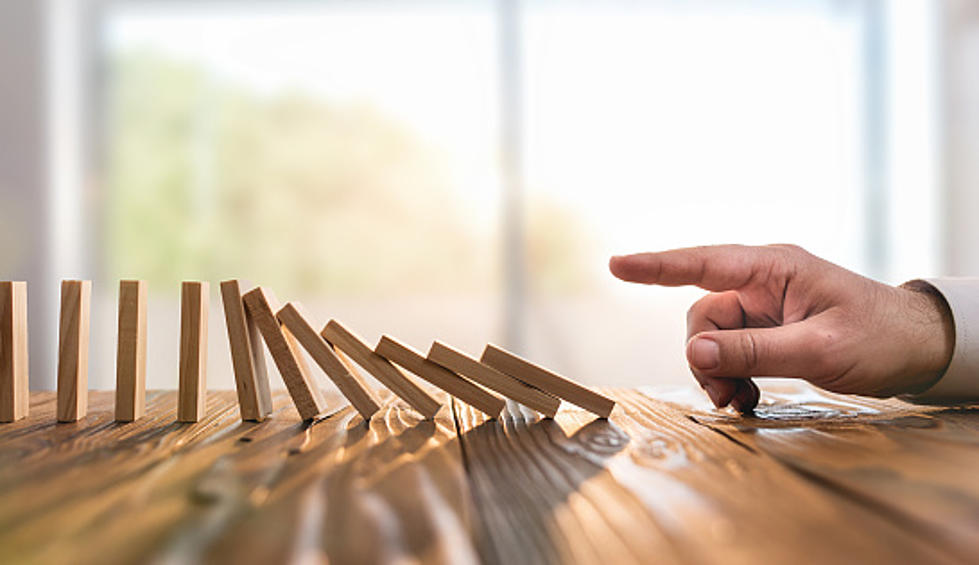 ilkercelik/getty
As featured on the McDermott At-Large daily talk show, by request, here is the list of dominoes that Biden was a part of and/or set forth on the Pathway to America's Destruction (in no specific order): 

As Obama's VP, they colluded and executed the division of Race & Classes. They weaponized the Justice Dept, the IRS and the FBI. These traitors ushered in the Green Agenda and the Defund Police, BLM and AntiFa Eras. They launched "Assault Weapon" rhetoric based upon misinformation and false association. They LIED.
As President, Biden declared war against fossil fuels; shutting down the Keystone Pipeline and removing drilling permits.
Biden escalated covid jab mandates. Misappropriated and mis-spent Recovery & Covid Funding; increasing spending and debt.
Biden tapped fuel reserves for a worthless mid-term election perk while
shipping fuel & armory reserves overseas for a loss. We have depletion without replacement of said Reserves
Biden sexualized the military as a priority in training and recruitment; Pronouns over Power resulting in a shocking deficit of soldiers.
Biden has unprecedented persecution of political rivals; nominees for political offices, benches or committees.
Biden has fostered and allowed violent protests and has created the Domestic Terrorism category for parents for merely questioning their child's education curriculum. 
Biden has decriminalized drugs and shoplifting to the point where it is more criminal to try and STOP a crime than commit one.
Open borders .. or rather NO borders. Biden mocked, blocked and halted Border Wall construction during Trump - now doing too little, too late. Biden sues states that deal with illegals directly.
The Afghanistan Withdrawal has the potential to be Biden's biggest, deadliest Domino. Every disease epidemic, drug crisis, terrorist threat, terrorist act (present and future) will be a direct result of this one. The amount of state-of-the-art software and hardware in the hands of terrorists now is staggering. This is blood on his hands.
Biden's lack of Foreign Policy and zero show of strength have allowed the Middle east and Asian-Pacific theaters to fall into critical instability. His appeasement in Ukraine; no solution, no endgame for war has brought us to the brink of another World War.
Hunter Biden: bought and paid for; money, leaks, information, access, intel, laundering - just an all-around Achille's Heel for the "Big Guy", Joe, his dad.
Biden's ever-decreasing mental / physical health capacity.
Sleepy Joe has taken 40% + vacation time in one term.
Lack of response to East Palestine spill, Maui fires, China balloons, overall terrorism, rampant disease and the unrestrained, unintimidated, drug cartels.
Loan forgiveness, white supremacy and Climate Change are touted as "highest priorities" by Biden.
Bidenflation! Supply Chain issues ongoing; the formation of the BRICS alliance of our enemies to ruin us economically by devaluing the dollar and buying up North American land, companies, assets and resources.
Biden has had nothing but a tepid, non-response to the Hamas / Israel War.
That's it, thus far.  We all know that we are enduring Barry Soetoro's Third Reich, er, ah .. Term. Obama said he always wanted one to run from "behind the scenes". We're here.
15 Girls From Texas Went Missing In September. Have You Seen Them?
Please look through the gallery to see pictures and information about the Texas children that were reported missing and are still missing to the National Center for Missing and Exploited Children. These kids are from all across the state of Texas including from cities like Houston, Amarillo, and Lubbock. If you recognize any of these kids, please contact authorities.
Gallery Credit: Chad Hasty
More From News/Talk 95.1 & 790 KFYO