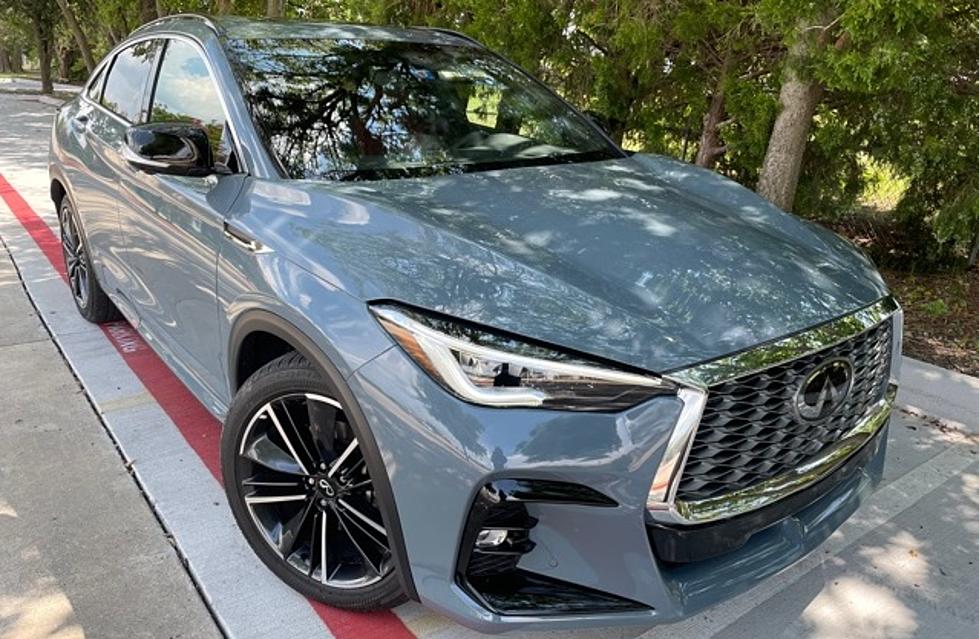 The Car Pro Test Drives the All-New 2022 Infiniti QX55
The All-new 2022 Infiniti QX55 as photographed by The Car Pro Jerry Reynolds
Thursday on Sunrise LBK with Dave King and Tom Collins, The Car Pro Jerry Reynolds joined Dave and Tom to talk about his test drive of the week, the ongoing chip shortage, as well as other auto industry news.
This week The Car Pro was test driving the 2022 Infiniti QX55, a completely new entry to Infiniti's lineup that is meant to fit between the QX50 and the QX60, although this one is a bit different. Jerry started the discussion by saying that it has been a bit of a trend for automakers recently to make new SUVs, as anything called an SUV seems to sell better. This model is a coup, although it is a 4 door, and seems to look a bit like a "car on steroids."
The 2022 Infiniti QX55 has a 2 liter 4 cylinder engine with a turbo that puts out 268 horses and gets 28 miles to the gallon in town. It has a nice grey exterior and a 2 tone red and black interior, it drives great, handles surprisingly well, and has good cargo room. It also comes with everything you could put on one including air conditioned seats, a moon roof, and a wireless sound system. Jerry expected the back seat to be short considering the slanted roof, but was surprised to find it had decent room. The car has a window sticker price of $58,000, which Reynolds says puts it right in line compared to similar competitors.
Reynolds was also asked about when we can expect new cars to become plentiful again. Jerry answered by saying that he was a bit disappointed to hear Toyota's announcement that they are cutting production by 40% for August and September. Other auto makers, however, seem to be picking up speed again, and so things are still more or less on schedule.
The Car Pro also talked about several stories on his website carprousa.com. One story talks about the Do and Dont's of cleaning the inside of your car. Another talks about the States with the Cheapest and Most Expensive Gas. Yet another talks about the Extensive Recalls for this Week, which Jerry said was very big. The Fastest Selling New and Used Cars from the last month. And finally, Tips to Save Money on a Rental Car during this shortage.
Read more stories at carprousa.com and listen to the full interview in the audio above.
Sunrise LBK with Dave King and Tom Collins airs weekday mornings live, from 6:00 AM to 8:30 AM on News/Talk 95.1 FM and 790 AM KFYO, online at KFYO.com, & on the free KFYO app.
32 Tickets From Killer Lubbock Concerts
30 Actors Who Were Born in Texas
More From News/Talk 95.1 & 790 KFYO