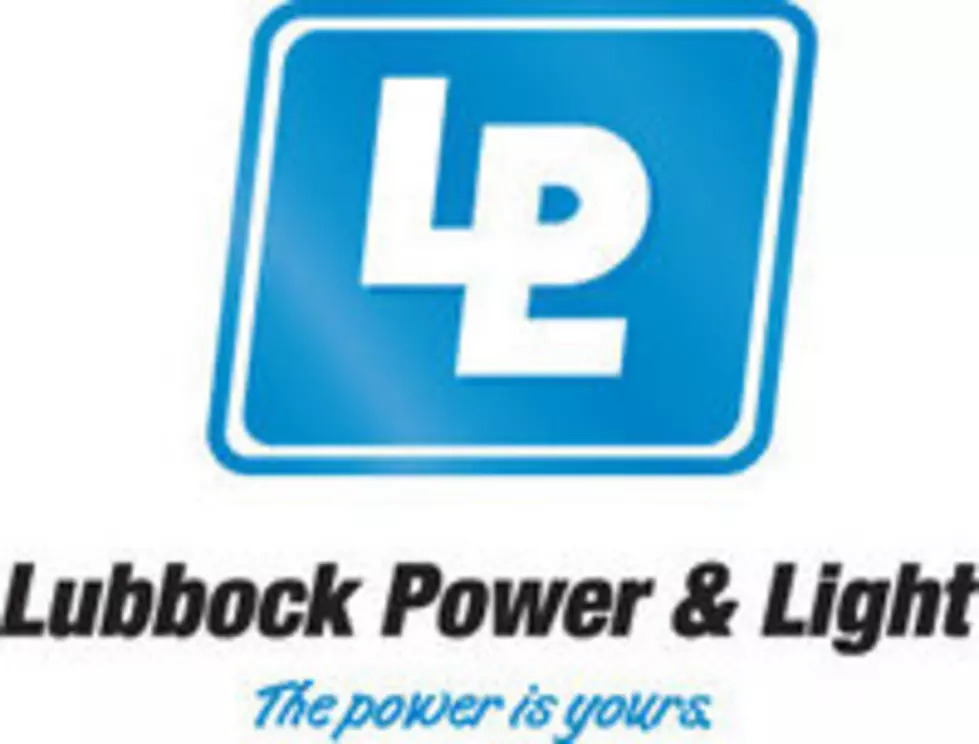 Changes Come to Lubbock's Electric Utility Board
LP&L
Thursday night, the Lubbock City Council took up the issue of new appointments and re-appointments to the Electric Utility Board (EUB) which oversees Lubbock Power & Light.
The first re-appointment considered by the Lubbock City Council was EUB Chairman Gail Kring. Kring lost his spot on the board by a 4-3 vote, with Kring being replaced by Don Boatman. Kring was supported by Councilman Todd Klein, Councilman Victor Hernandez and Councilwoman Latrelle Joy.
Carroll McDonald's seat was the next one to be discussed and he lost his seat on the EUB as well. James Conwright was voted onto the EUB by a 6-1 vote, with Councilman Floyd Price dissenting.
The council then filled an open seat on the EUB with Charlie Dunn. Dunn was voted onto the EUB by a 5-2 vote, with council members Floyd Price and Latrelle Joy dissenting.
Former Lubbock Mayor Marc McDougal was the last current board member up for reappointment.  When discussion about McDougal's seat began, Councilwoman Joy nominated local CPA Greg Taylor. Councilman Price then nominated to reappoint McDougal for another term on the board.
In discussing McDougal (pictured, left) and his term on the EUB, Councilwoman Joy said, "I know there has been a legal opinion issued by the City Attorney that Marc McDougal does not have a conflict on paper. However, I think there is more to consider than whether or not there is a legal conflict.
"We have to look at how he has operated during the past years. I did my own research and I do know that one of the issues before the LP&L Board is: who is going to pay for some of the cost of the underground utilities and the connections to the various businesses? It's been a much discussed issue....   and I do know that Mr. McDougal has lobbied for LP&L to pay those expenses. Because he is a developer and because he has sat in meetings where he has represented that he is a developer; I think there is conflict between what the  (McDougal Companies) is doing Downtown and his position on the LP&L Board. For that reason I cannot support Marc McDougal," Joy said.
District 1 Councilman Victor Hernandez then voiced his support for Councilwoman Joy's reasoning for replacing McDougal on the EUB. "I like Marc and I served with him when he was mayor. But I think if you're going to wipe the slate clean (on the EUB), you wipe it clean."
The vote concerning McDougal's spot on the EUB was then taken, with Greg Taylor winning appointment by a 4-3 vote.  Mayor Glen Robertson, Mayor Pro Tem Karen Gibson and Councilman Price were the dissenting votes.
The final appointment to be made to the EUB was to fill the spot being vacated by Robert Musselman. Councilman Jim Gerlt nominated former City Council candidate Jerry Bell, Stephanie Hill was nominated by Councilman Hernandez and Pro Tem Gibson nominated Marc McDougal.  Bell was appointed to the EUB by receiving five votes, with Mayor Robertson and Pro Tem Gibson dissenting.
The members of the EUB are now: Emilio Abeyta, Board Vice Chairman; George Carpenter, Clayton Isom, Suzanne Blake and the newly appointed: Don Boatman, Charlie Dunn, James Conwright, Greg Taylor and Jerry Bell. The board will have to elect new officers at their next meeting.
In other action by the Lubbock City Council, the council voted 6-1 to give the Lubbock's Chief of Police latitude to consider and/or start an investigation into the Lubbock Power & Light RFP process. Councilwoman Latrelle Joy was the only dissenting vote on the measure. Agenda item 6.5 was officially worded as, "Consider and possibly take action on starting an investigation concerning LP&L's RFP processes including the activities of officers and/or employees of LP&L and/or the City."
More From News/Talk 95.1 & 790 KFYO