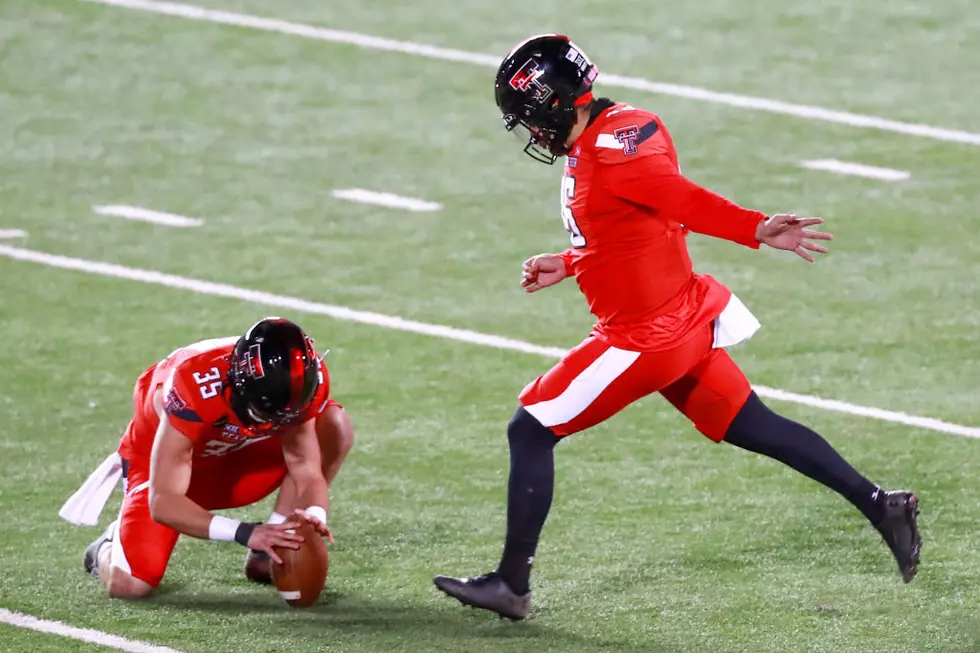 The 'Titanic' Music Makes Everything Better
(Photo by John E. Moore III/Getty Images)
The Red Raiders beat the Baylor Bears Saturday thanks to an epic field goal from Jonathan Garibay to secure the win 24-23 with no time remaining on the clock.
You can see that video below, but if you look a little bit further down you can see a version that is 100 percent more dramatic, more exciting and more thrilling. Just a dash more Titanic.
Sure, the video is great, but it's the music that really sells the emotion for the Red Raiders. The release of energy as Celine Dion belts out, "You're here, there's nothing I fear" is unrivaled.
After the kick and ensuing celebration, Jack finds Rose, err, I mean, Coach Matt Wells finds Garibay and gives him a hearty embrace.
Garibay's 4-4 performance with a long of 48-yards was the first time since 2013 a Texas Tech field goal kicker went 4-4. The last Texas Tech kicker to go perfect with at least four attempts was Ryan Bustin, who did it against Texas State in 2013.
The Red Raiders take the momentum gained from Garibay's kick and head into a bye week before finishing the season in Stillwater against Oklahoma State and in Lubbock against the vaunted Kansas Jayhawks.
Garibay's field goals keep the Red Raiders alive for bowl game contention and lets the still-new coaching staff create some solid momentum heading into next season instead of completely fizzling out in year two after some bad losses. By beating at least one more team, Texas Tech can get to four wins for the second consecutive season, but will be better off mathematically after only playing 10 games in 2020 instead of the usual 12.
Lubbock's Epic $2 Million Dollar Home Has an Indoor Basketball Court
Lubbock's Epic $2 Million Dollar Home Has an Indoor Basketball Court
More From News/Talk 95.1 & 790 KFYO