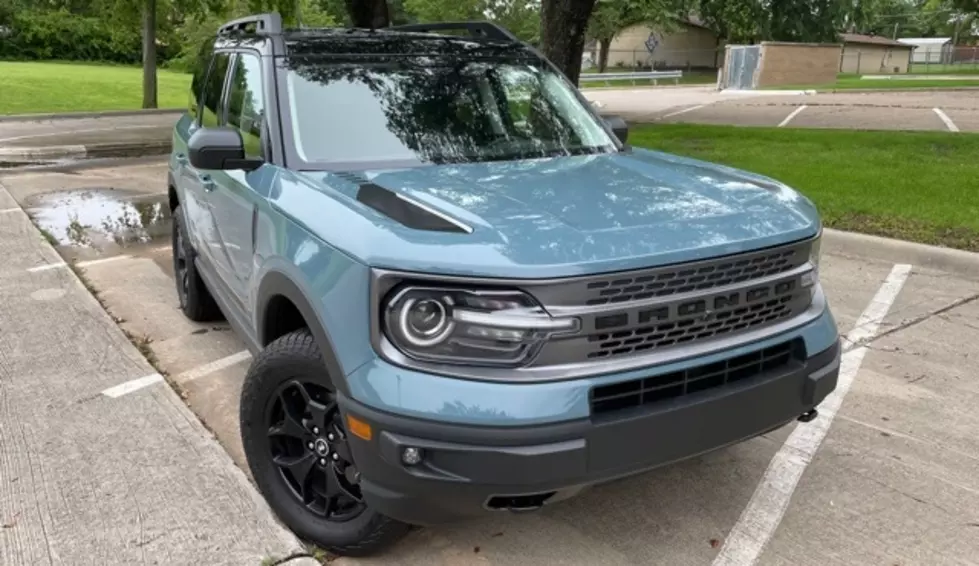 The Car Pro Test Drives the 2021 Ford Bronco Sport 4×4 Badlands Edition
The 2021 Ford Bronco Sport 4x4 Badlands Edition as photographed by The Car Pro Jerry Reynolds
Thursday on KFYO Mornings with Dave King and Matt Martin, The Car Pro Jerry Reynolds joined Dave and Matt to talk about his test drive of the week, some stories on his website, as well as other auto industry news.
This week The Car Pro was test driving the 2021 Ford Bronco Sport 4x4 Badlands Edition. Reynolds started the discussion by saying that there has been a bit of confusion this week surrounding this car and other's in Ford's upcoming lineup. Jerry thinks that they made a mistake calling this version a "sport", as it has been leading people to believe that this car would be much bigger, when really people are getting it mixed up with an upcoming big Bronco this summer, whereas this one is closer to a compact SUV.
The car is small and Jerry thought it was neat, but the thing that he was the most impressed with was how off-road capable this vehicle is, with a great 4 wheel drive system set up much like a Range Rover, with lots of options and settings. The car also has a very powerful 2 liter 4 cylinder eco boost engine that puts out 250 horses, and yet despite this, Jerry says that it is also a capable daily driver, with a responsive engine, lots of cargo room, and roomy front seats. The 2021 Ford Bronco Sport has a price of $39,000, which Reynolds thinks is a little pricy. One thing that was mentioned was that dealers will not stock these cars at all. Instead, people go online to order them, and then Ford assigns a dealer to get the car to you. He does, however, say that buying a car online makes him a little nervous, as he wouldn't want to spend that much on a car that he couldn't test first.
Read more stories at
carprousa.com
and listen to the full interview with Jerry Reynolds in the audio above.
KFYO Mornings with Dave King & Matt Martin airs weekday mornings live, from 6:00 AM to 8:30 AM on News/Talk 95.1 FM and 790 AM KFYO, online at 
KFYO.com
, & on the free KFYO app.
Lubbock's Most Expensive Home of 2016
More From News/Talk 95.1 & 790 KFYO