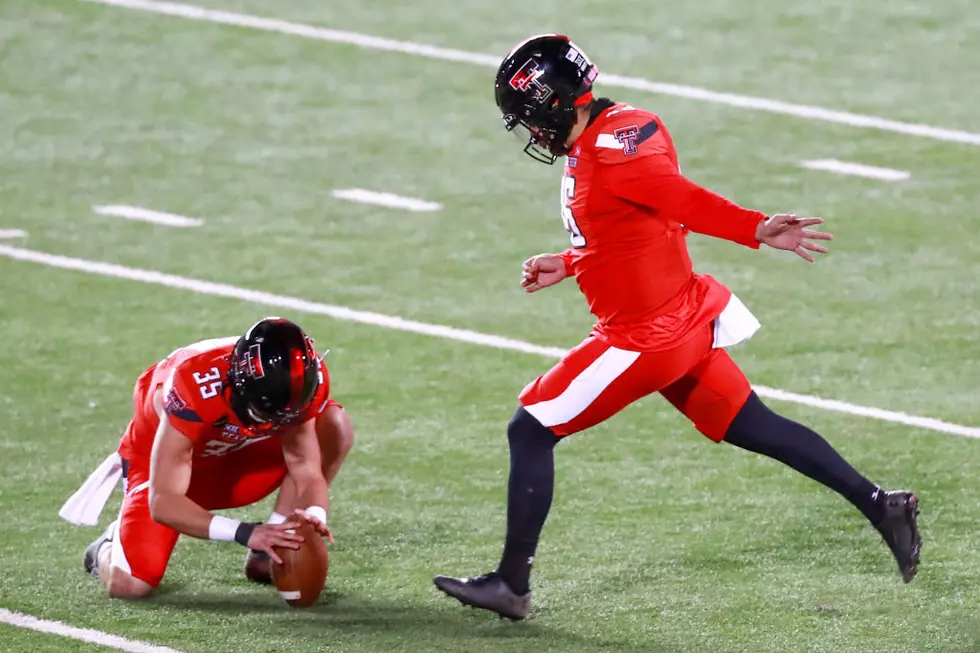 The All-Big 12 Team Proves Texas Tech Kicker Was Snubbed By National Award
(Photo by John E. Moore III/Getty Images)
Jonathan Garibay was the best field goal kicker in the Big 12 this season, as voted on by the Big 12 coaches for the season-ending awards that the Big 12 conference puts out this time of the year. This means that the league's coaches thought he was a better kicker than Gabe Brkic from Oklahoma who somehow was named as a Lou Groza Award finalist.
Maybe I'm a homer, but Garibay not missing a single kick until the very last second of the regular season from 53-yards out in the rain, seems pretty good.
Moving on, Garibay was the only Red Raider named to the All-Big 12 1st team, even though the Big 12 put two punters on the 1st team not named Austin McNamara. Am I just getting too salty at this point?
McNamara was included on the second team, along with Colin Schooler, Dawson Deaton, Erik Ezukanma, and Damarcus Fields.
The Red Raiders also had more than a few on the All-Big 12 honorable mention list including Jaylon Hutchings who I think is severely underrated, Riko Jeffers, Tyree Wilson, Reggie Pearson, and more. You can see the full list below.
The Red Raiders only notching one player on the first-team isn't a surprise. They finished the season 6-6, but I do think you look back at the year with some disappointment that some guys struggled more than you thought they would. Namely, Ezukanma, who I thought would have a career year. Instead, he turned in a workmanlike season like he's done for the past two seasons. A good season, but not a great one.
As we head into the off-season we now anxiously await all of these players who have eligibility left as they make their decisions on whether to transfer, return, or go pro. Can't wait. That's of course after a bowl game and one last ride for Sonny Cumbie and the boys.
12 Potential Bowl Matchups for the Red Raiders
There are five bowls that Texas Tech will likely go to at the close of this season. The Liberty Bowl or The Texas Bowl vs an SEC team, The Cheez-It Bowl vs an ACC team, or The Guaranteed Rate Bowl vs a Big Ten team are the most likely options.
There are also possibilities for the Armed Forces Bowl or the First Responders Bowl against a Pac 12, AAC, Conference USA, or ACC team.
Here are 12 potential teams that could match up with the Red Raiders in one of the aforementioned Bowl Games.
Who's Been Hired For McGuire's Staff and Who's Getting Hired Next
More From News/Talk 95.1 & 790 KFYO