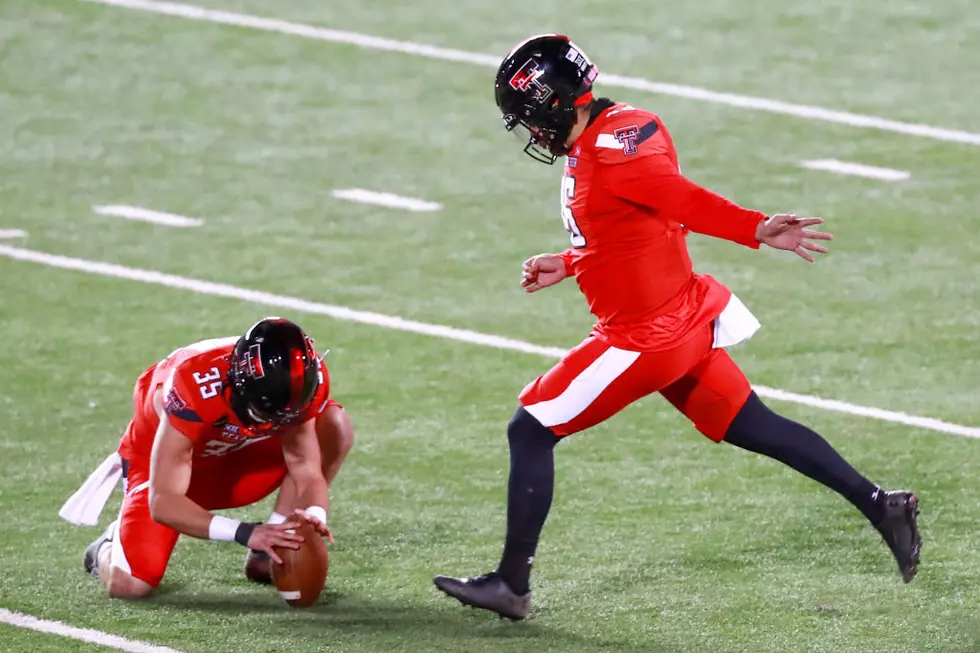 Texas Tech's Jonathan Garibay's Nickname Has Been Decided
John E. Moore III/Getty Images
Jonathan Garibay kicked his way into the hearts of Red Raider fans everywhere on Saturday afternoon by going 4-for-4 from the field with a long of nearly 50 yards and game-winner as time expired.
During the game, we found out that Garibay's family had made the trip to Lubbock from California to watch him kick for the first time. They hadn't seen each other since last Christmas.
Is it dusty where you are, or is it just me?
If that wasn't enough for Garibay's first weekend as the go-to guy, he also had to punt for the Red Raiders after starter Austin McNamara was ruled out. Garibay hadn't punted in several years, but had an admirable game as the punter and handling kickoff duties.
For his efforts, Garibay was named Big 12 Special Teams Player of the Week. It's a no-brainer, really. Texas Tech's Colin Schooler was also named Big 12 Newcomer of the Week for his efforts against Baylor.
Now, I would generally wait for Garibay to repeat his success for a few weeks before crowning him with a new nickname, but to come off the weekend he just had it, only felt right. Along with Kyle Jacobson, I collected the top nickname contenders for Garibay and compiled them into a completely legitimate and accurate polling system.
The contenders were: All Day Garibay, GariBAE, GariBOOM and Thiccer the Kicker.
Most of those need no explanation. Thiccer the Kicker is an ode to Cameron Dicker, who was anointed Dicker the Kicker by Gus Johnson after a game-winning field goal of his own. Garibay is Thicc. From there, it all falls into place. (Full disclosure: I did not come up with Thiccer the Kicker.)
After the contenders were decided, we put it to a vote.
With 37.6 percent of the vote, it was 'All Day Garibay' that took the prize. So henceforth from this day, November Sixteenth in the year of our lord Twenty-Twenty, Jonathon Garibay will now be known as All Day Garibay.
Texas Tech vs Texas Tailgating (2018)
More From News/Talk 95.1 & 790 KFYO