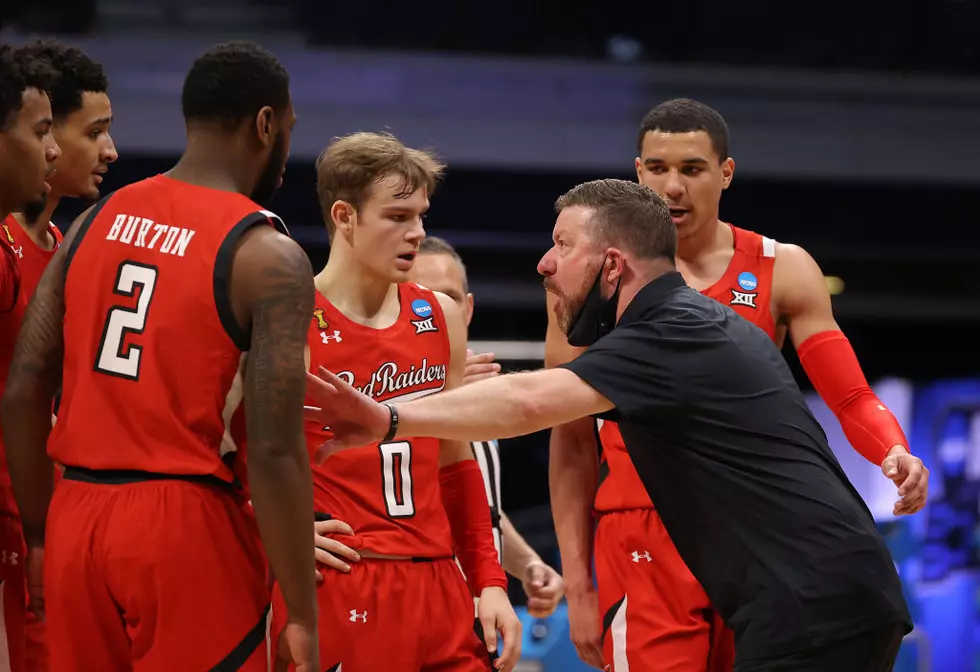 Sports Illustrated Writer Implies Texas Tech Lost Because Chris Beard Didn't Wear His Mask Enough
Gregory Shamus/Getty Images
I saw a tweet shortly after the Texas Tech Red Raiders lost to Arkansas 68-66 in a valiant, but brutal flurry and finish, and I tried to ignore it. I really did. But I thought about the tweet all night. I was still thinking about the tweet this morning. Then I got busy at work, but as soon as work slowed down, I was thinking about the tweet again.
It's like a bad pop song earworm that won't get out of my head. Like Carly Rae Jepsen's "Call Me Maybe," "Who Let the Dogs" out by the Baja Men, or that one song by Gotye.
This is the tweet I can't get out of my head:
No, Pat Forde, no -- you didn't have to stoop so low.
That's right, West Virginia, Illinois and Texas Tech lost in the NCAA tournament lost because their head coaches weren't diligent in their mask-wearing. I know Sports Illustrated's Forde opens the tweet with "not saying this is a causal relationship," but that qualifying sure makes it seem like he is saying that.
This isn't an anti-mask blog. Masks basically eliminated the common flu and were/are an instrumental part of our everyday life now. That's not the point. The point is that Forde singled out a program led by Chris Beard that followed the rules all season and didn't have a single stoppage based on a positive COVID-19 case in their own program.
Beard should be praised for how he and his team handled the adversity of the coronavirus, but instead, this jobber on Twitter decides three losing coaches wore their masks less than the winning coaches? Did he keep a tally of shots that included coaches being masked vs unmasked? Is there empirical data to prove that masks improve the shooting ability of a team or the team's free throw percentage in clutch situations?
Should I worry about this tweet? No. It should have zero impact on my life, but here I am, writing more than 400 words on the dumbest tweet I've ever seen in my life. Bob Huggins, who has won more than 900 basketball games, lost because he wasn't diligently wearing a mask inside a bubble where there were multiple tests administered heading into the game?
I'm worn out. I have virtue signaling fatigue. If Forde's goal was to ruin my week, I won't give him that victory, but he certainly ruined my Monday.
I'm going to go play some Carly Rae Jepsen to get this garbage tweet out of my head.
A Brief History of Texas Tech Men's Basketball in the NCAA Tournament
More From News/Talk 95.1 & 790 KFYO