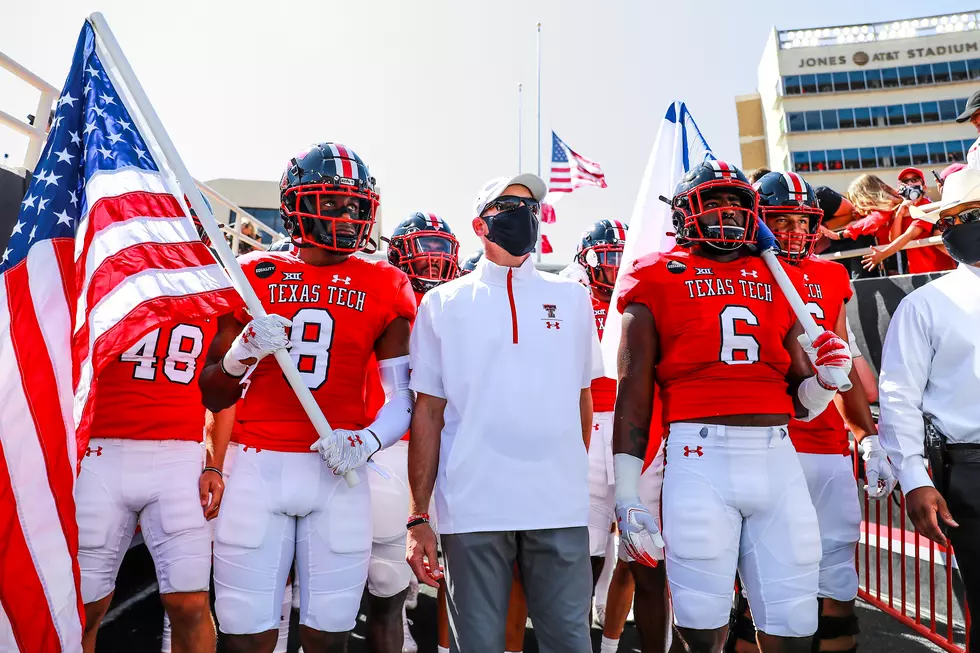 Texas Tech Football On Pace For Best Recruiting Class In Decade
John E. Moore III/Getty Images
Coach Matt Wells locked in another commit for 2021 Thursday night in Cam'Ron Valdez, a highly coveted running back from Texas.
According to 247sports.com, Valdez is ranked as the 20th best running back prospect in the nation and the 58th best-rated recruit in the state of Texas. Texas Tech currently has 5 of the top 100 recruits in Texas committed to becoming Red Raiders.
Valdez is an all-purpose back who had 43 touchdowns in two varsity seasons entering his Senior year and had already run for more than 2,800 yards. Valdez isn't often asked to catch the ball out of the backfield, but is capable.
Here are some of his highlights from Rockdale High School:
The addition of Valdez ranks the Red Raiders as the 9th best class, according to the team rankings on 247sports. Here's why that number is a lie.
The Red Raiders have an average recruit rating of 86.7. That's 4th best in the Big 12 and only behind Oklahoma, Texas, and West Virginia. Texas Tech has two four-star recruits in the class, more than 5 other programs.
So why is Texas Tech's class ranked 9th? Because the rankings go by total score, not by average. The Red Raiders' 11-player class is lagging behind the other Big 12 teams who already have 15 or more players. Iowa State already has 18 commits, but has an average recruit ranking of 83.95.
Generally, I don't look into recruiting rankings too much because they're a flawed system that misses more than they hit and mostly depend on if the player lands in the right system, but this class for Texas Tech is shaping up to be the best in the past decade -- or more.
Since they started keeping track of recruits and ranking them early in the Leach Era, Texas Tech has only once had a class that averaged a rating above an 86: the 2011 class, which featured Delvon Simmons, Jace Amaro, Branden Jackson, Le'Raven Clark, Bradley Marquez, Jakeem Grant, Sam Eguavoen and DeAndre Washington. All eight of them went on to play in the NFL.
The next class might not produce eight NFL players, but it is on pace to have a higher average rating than 2011. It's definitely on pace to rate higher than the last five classes, which is what the Red Raiders have desperately needed.
Helping the class average are Eastland quarterback Behren Morton, who is the highest-rated quarterback to ever commit to Texas Tech. (Jarrett Stidham doesn't count.) DeSoto receiver Jerand Bradley and Valdez are the next two highest-rated prospects on the list. Not to mention a pair of tight ends 6'6" or taller and some solid defensive talent, and Matt Wells is really cooking with gas here.
Patrick Mahomes: From East Texas To NFL Stardom
More From News/Talk 95.1 & 790 KFYO