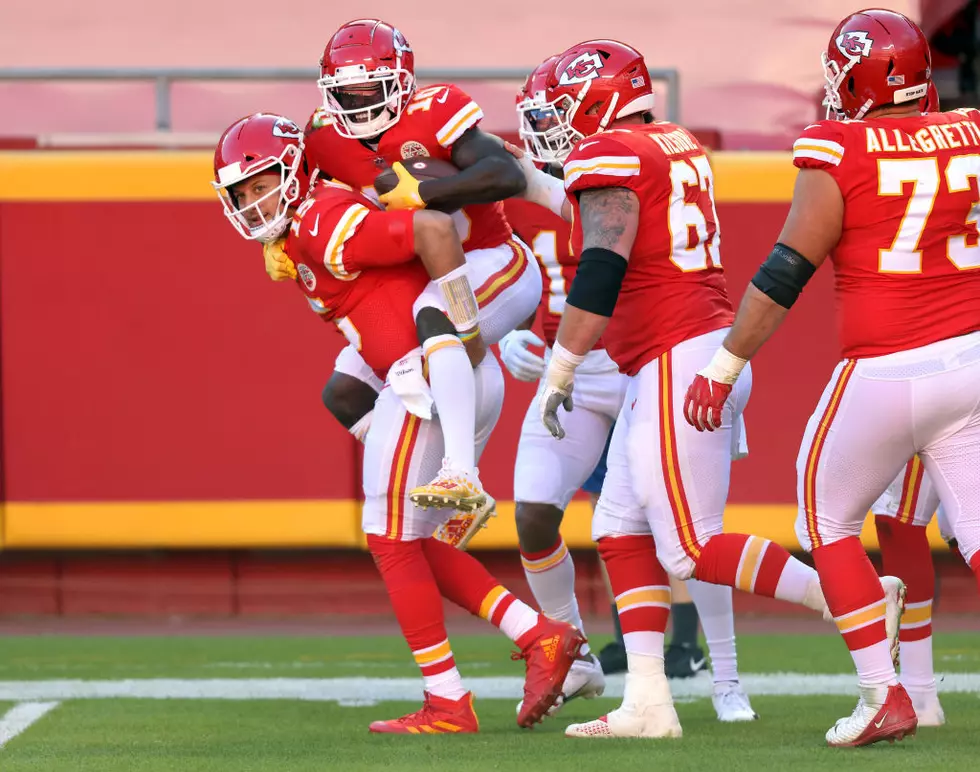 Patrick Mahomes Carried the Chiefs on his Back… Literally
(Photo by Jamie Squire/Getty Images)
Enter your number to get our free mobile app
In the midst of the 35 to 9 beat down on Sunday the Kansas City Chiefs were having fun. A lot of fun. Patrick Mahomes threw for five touchdowns and 416 yards making sure to get everyone involved. 11 Chiefs had receptions and four different players had touchdowns.
Travis Kelce led the way with more than 100 yards and a touchdown. Mecole Hardman and Demarcus Robinson also caught touchdowns. While the final two touchdowns went to Tyreek Hill.
Hills longest, a 41-yarder, was his 7th touchdown catch of the season and 39th in his career. Of those, 23 have been of 40 or more yards. That tied Hill for the most in NFL history along with the notable receiver and NFL hall of famer Randy Moss.
After one of Hill's touchdowns, he stayed on the turf for a second.
Mahomes wasn't going to leave a man behind so he ran down the field and picked Hill up off the ground and carried him back to the benches on the sideline. Proving that Mahomes will literally carry his teammates to victory.
It wasn't just Mahomes and the offense that was having fun on Sunday. The Chiefs defense didn't allow a touchdown and only allowed 130 yards passing and less than 100 yards rushing.
Then, with the game well in hand, and the Chiefs defense certainly feeling themselves, they danced all over the Jets graves.
How do you even continue playing after this blatant show of disrespect? Of course, at 0-7 it's not like the Jets command any respect. Their offense certainly doesn't with little to no protection for Sam Darnold and the Jets' highest-paid offensive weapon is now playing running back for the Kansas City Chiefs.
I think many more teams will be dancing on the Jets before the season is over.
More From News/Talk 95.1 & 790 KFYO