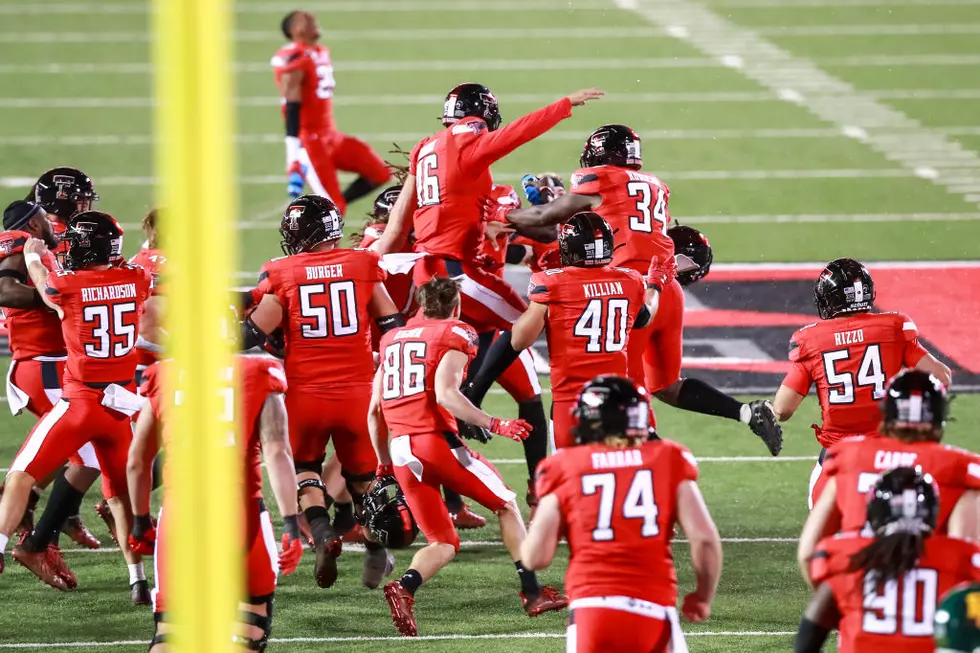 Ezukanma, Deaton and 4 Other Red Raiders Getting NFL Shots
John E. Moore III/Getty Images
The Texas Tech Red Raiders have an NFL Draft streak going with at least one player being drafted every year since 2016 starting with Le'Raven Clark as the third-round pick of the Indianapolis Colts in 2016. DeAndre Washington and Jakeem Grant were also picked up in 2016.
Patrick Mahomes went 10th overall in 2017. 2018 featured a couple of Red Raider wide receivers in Keke Coutee and Dylan Cantrell. 2019 was a near miss, but Dakota Allen slipped in late and his linebacker mate Jordyn Brooks went first round in 2020 along with defensive lineman Broderick Washington.
In 2021, Zech McPhearson and Jack Anderson got their names called by NFL teams.
That brings us to 2022 where Erik Ezukanma and Dawson Deaton went to the Dolphins and Browns respectively. That's not everyone who's getting an NFL chance though. Even in the last seven years, Red Raiders have made the NFL without going in the draft. Terence Steele went from undrafted free agent to starting games for the Dallas Cowboys in the first two seasons of his career in the NFL.
Antoine Wesley went undrafted and survived on the practice squad for several seasons in Baltimore before finally breaking onto the field with the Arizona Cardinals last season catching multiple touchdowns for head coach Kliff Kingsbury again.
There are 6 Red Raiders with legit shots to be in NFL training camps this offseason after either being drafted or signed already. That doesn't mean that guys like Colin Schooler, Riko Jeffers, and Travis Koontz still couldn't find their way to a training camp or get a rookie mini-camp invite, but they haven't been signed like the rest of these guys below.
Every Texas Tech Red Raider Getting a Shot at the NFL in 2022
Marcus Santos-Silva and 9 other College Basketball Stars who went to the NFL
Santos-Silva is going to give the NFL a shot, can he be the next Antonio Gates?
More From News/Talk 95.1 & 790 KFYO