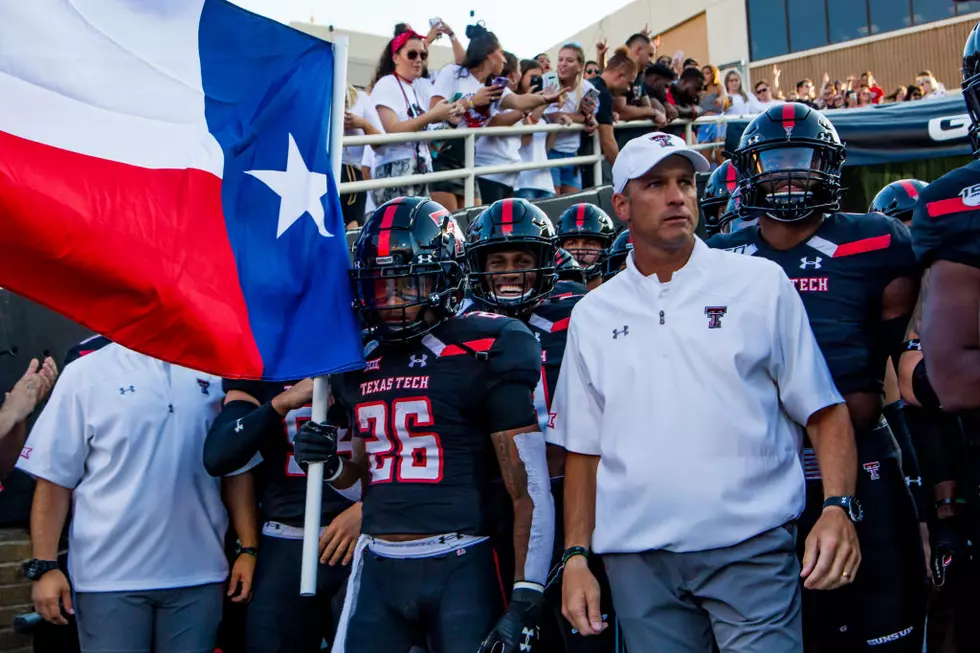 Wells Stays, Yost Out at Texas Tech Football
John E. Moore III/Getty Images
After a week of wild speculation, it seems like head coach Matt Wells will return to Texas Tech football in 2021, but not without a major firing within his staff.
The school's athletics department confirmed the news via press release Monday (December 14th) just after noon. Offensive Coordinator David Yost, who followed Wells from Utah State in 2019, has officially been fired.
"Texas Tech head coach Matt Wells announced Monday he has relieved offensive coordinator and quarterbacks coach David Yost of his duties, effective immediately," the press release said.
Wells touted Yost as a "true professional" in his comments about the decision.
"This is a difficult decision, but I recognize that I have a responsibility to our players, to our fans and to our administration to do what is best for our program as we move forward. Sometimes change is necessary, and I feel like this is one of those times," Wells said in a statement.
KAMC News' David Collier broke the news shortly before the school alerted the media.
The regression of the offense, even with the crazy offseason, generated the firing, which was fanned by a silent athletic department.
In 2020, Wells was returning three starters on the interior of the offensive line, a starting running back, his QB, and the entire starting wide receiver corps. Wells and offensive coordinator David Yost also got a QB transfer, Henry Colombi, that knew the offense from his time at Utah State.
Even with all those returners the offense never got going and finished with an absolute dud against Kansas. A win, but only scoring 16 points against a defense that was giving up more than 50 points per game is really bad.
As far as Wells goes, the players also couldn't have loved his press conferences this season.
When asked about the idiotic sky kick against Texas when there was 3:15 left on the clock and the Red Raiders enjoying a 15-point lead, it wasn't the coaching decision that was wrong. According to Wells, it was the players who didn't execute. The special team's gaffes all season were on the execution, not the play call. When Bowman was benched after Iowa State, it was his fault for not reading the defense, not on the coaching staff for failing to put him in a position to succeed.
Wells' 'We. Us. Our.' mantra fell flat when every mistake seemed to be more 'Them. They. Those.' That needs to change if the Red Raiders and Matt Wells are going to move forward and improve as a program.
The search for a new offensive coordinator has already begun.
27 Best and Worst Texas Tech Football Uniforms Since 2000
More From News/Talk 95.1 & 790 KFYO