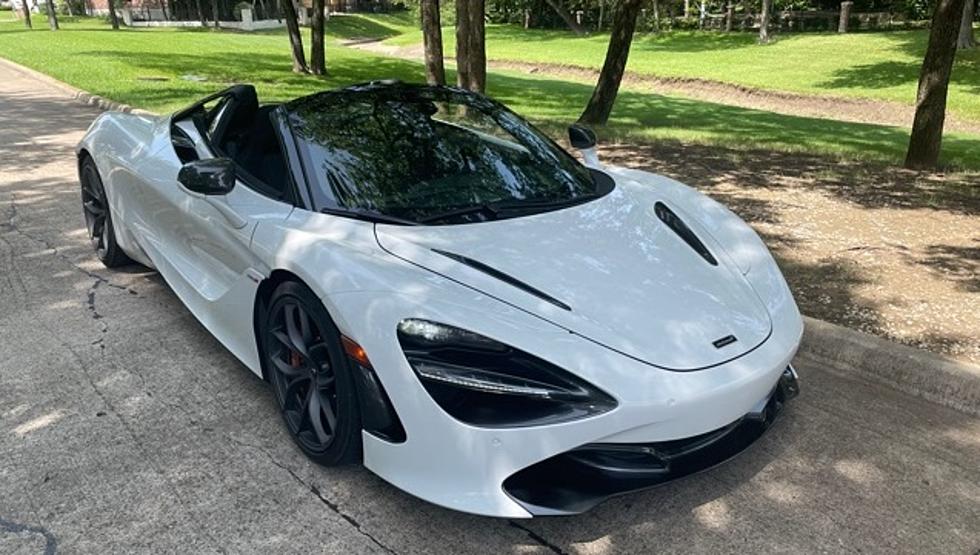 The Car Pro Test Drives the 2021 McLaren 720S Spider Convertible
The 2021 McLaren 720S Spider as photographed by The Car Pro Jerry Reynolds
Thursday on KFYO Mornings with Dave King and Matt Martin, The Car Pro Jerry Reynolds joined Dave and Matt to talk about his test drive of the week, the mid year car sales numbers, a dangerous design flaw with a recent truck, as well as other auto industry news.
This week The Car Pro was test driving the very powerful 2021 McLaren 720S Spider convertible. Jerry started the conversation by saying that he usually only gets to test these super cars for about 3 days, and while he has had several McLarens in the past, this is the first convertible he has had. He also explained that this car is also a bit of a status symbol, where you don't see it very often, and when you drive down the freeway, people tend to take pictures all around you. The car has a very high 710 horses, can go from 0 to 60 mph in 2.8 seconds, and has a supposed top speed 212 mph, although Jerry has yet to test that himself.
I don't know what you can say about a car that has 710 horses that costs $359,000. It's amazing, there's no doubt about it. It's an engineering marvel.
The car is made of carbon fiber, making it very light, and has a mid engine which helps keep it balanced. The main issue with the car is the difficulty of getting in and out of it. Jerry said that this is due to the high step in and the low seats, and so getting in is easy enough, but getting out can be quite challenging. Despite this, it is very comfortable inside with nice, snug seats.
Reynolds also talked about some stories on his website carprousa.com. One story was a list of Mid Year Sales by Brand, where Jerry said that the numbers are pretty telling so far and that everything changing with the microchip shortage. Another story talks about the Cost to Get Your Check Engine Light Fixed. And finally, a story about a dangerous design flaw with the Duramax Diesel truck, which, if charged fully, can catch on fire.
Read more stories on carprousa.com and listen to the full interview with Jerry Reynolds in the audio above.
KFYO Mornings with Dave King & Matt Martin airs weekday mornings live, from 6:00 AM to 8:30 AM on News/Talk 95.1 FM and 790 AM KFYO, online at KFYO.com, & on the free KFYO app.
Luxury Castle Airbnb Experience in Wolfforth, Texas
This 5-bedroom, 10-bed, 4.5-bath home is available for rent
on Airbnb
. For $781/night, you can live the fantasy life of your dreams in this mini-castle near Lubbock, Texas.
32 Tickets From Killer Lubbock Concerts
More From News/Talk 95.1 & 790 KFYO