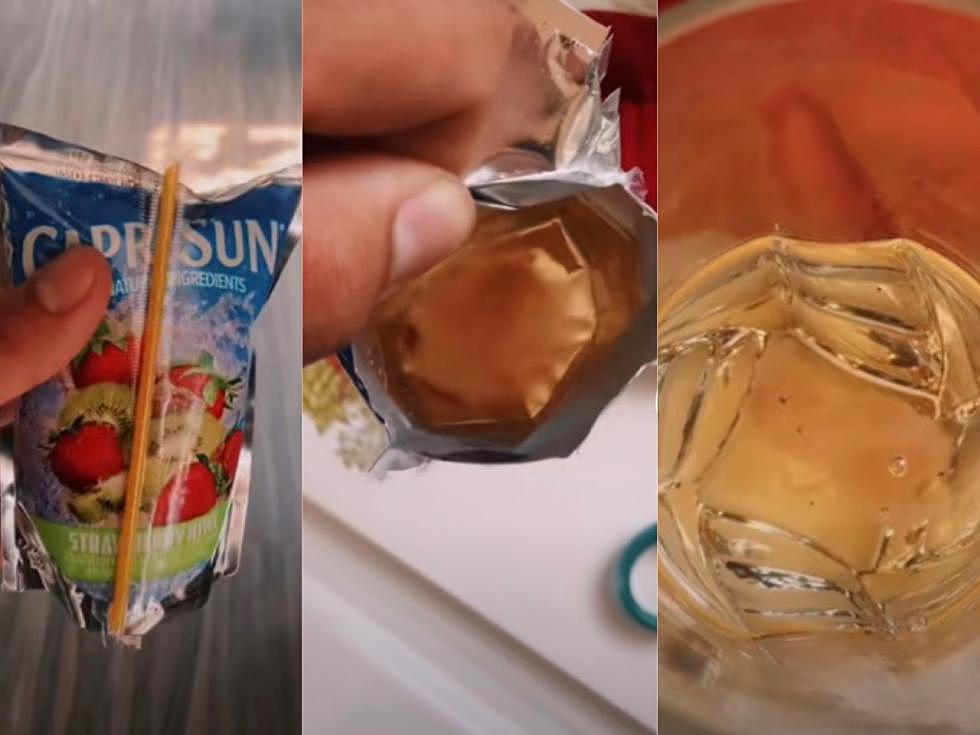 Parents Beware: Man Finds Mold in His Unopened Capri Sun Pouch
@victormarceloaguilar via TikTok
A TikToker recently posted a video showing him cutting open a new Capri Sun pouch and revealing a large clump of mold inside.
The man starts the video by showing the swollen Capri Sun pouch and mentioning how this is the second pouch he found in this state. He proceeds to cut the pouch open and show a large clump of what looks like mold floating around in the juice.
Apparently, this is not an uncommon occurrence. Capri Sun has an entire section of their frequently asked questions webpage dedicated to questions about mold in the pouches.
Their response to most of the questions is that Capri Sun is a preservative-free juice product, so it will not prevent mold growth. They say that the reason for mold would be due to air exposure from damage during the shipping process. The website page says "even if the hole is microscopic and not visibly detectable, it can be exposed to air."
Capri Sun also states that this is the reason they added clear bottoms to the pouches. They encourage parents to check the juice through the clear bottom before giving the pouch to children. They also say that if you find mold, then you should squeeze the pouch to see if you can find any leaks, but if you don't find any punctures, then you should contact them directly.
I think it is concerning to feel like you always have to check for mold before giving your child their juice, but some people are not bothered. Many are saying that they would rather check the pouch each time because they know they are giving their kid real juice that isn't filled with preservatives.
I think it's good to have a product that's natural and not full of preservatives. However, if this is as prominent of an issue as it seems, then why has their not been a better solution to avoid possible air contamination?
They mention that the mold is due to punctures in the pouch. If there's a leak, then shouldn't the pouch be releasing the gas from the mold rather than remaining swollen like the pouch shown in the TikTok post? There could absolutely be some other reason for the pouch staying swollen that I'm not aware of, but it seems very concerning.
Whatever the cause of the mold might be, please be careful and be sure to double-check the Capri Sun you buy before anyone drinks it. Take a look through the clear bottom, and give the pouch a little squeeze to check for any leaks.
These 180 Kids Have Gone Missing in Texas in 2021
More From News/Talk 95.1 & 790 KFYO