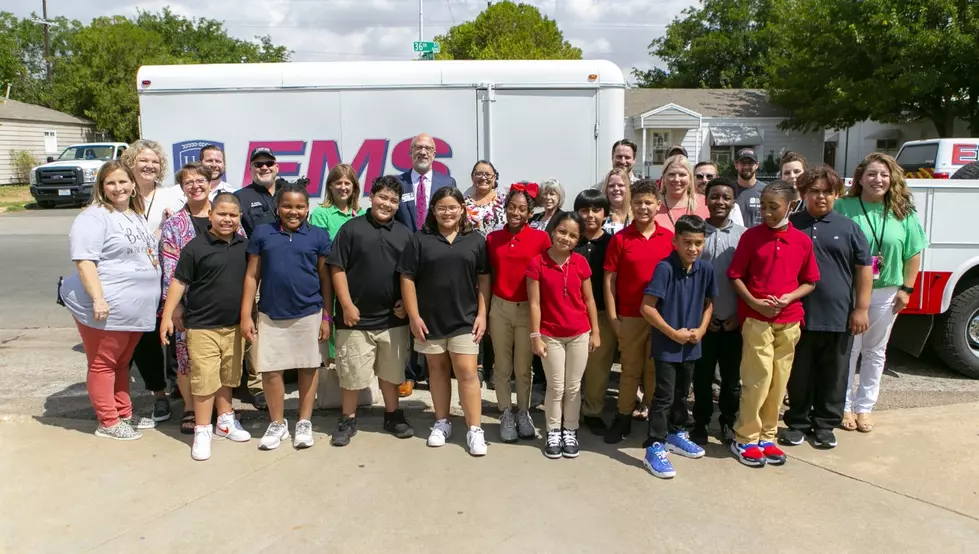 University Medical Center Donates School Supplies for 14th Year
Brown Elementary & UMC employees via UMC Health System
Every school year for the past 14 years Lubbock's University Medical Center has given back to the community by gifting school supplies to Brown Elementary School. Brown Elementary has partnered with University Medical Center through Lubbock ISD's Partners in Education Program to be able to aid the students. After consolidating schools with Dupre Elementary the Partners Education Program is able to reach even more students in need now that the number in the student body has increased.
President and CEO Mark Funderburk, with a few other UMC employees, helped deliver the supplies with Vice President Kristi Duske releasing a statement that the supplies had been successfully donated.
"Each year for the past 14 years, UMC employees have gone above and beyond to donate school supplies to the children of Brown Elementary.  UMC values its partnership with Brown Elementary through LISD's Partners in Education program and appreciates the ability to give back in ways that benefit the community. Today, UMC EMS helped deliver those UMC employee donations to the school.  Items included backpacks, pens, pencils, binders, glue, crayons, etc."  – Kristi Duske, Chief Legal Officer and Sr. VP of UMC
Through out the years along with school supplies there have been other donations such as special lunches, bags of groceries, and even clothes for the students to be able to take home with them. This year University Medical Center also honored the teachers of Brown Elementary by hosting a welcome back breakfast. University Medical Center also hosted the Back to School Bash in early August for Brown Elementary.
University Medical Center is just one of many partners that help students throughout the year with other Partners in Education being thanked and honored on LISD TV in the Partners in Education series.
Memorable Things Adults Miss Most About Going to School
Here is a list of things that adults miss most about attending school.
10 Areas in Lubbock with Good Schools for Raising a Family
There are many great schools throughout Lubbock and in the surrounding areas. Whether you want to live in central Lubbock, South Lubbock or over by Wolfforth, these are 10 neighborhoods you could live and some of the schools in those areas.
What Happened To Your Favorite Child Actors After They Left Hollywood
More From News/Talk 95.1 & 790 KFYO