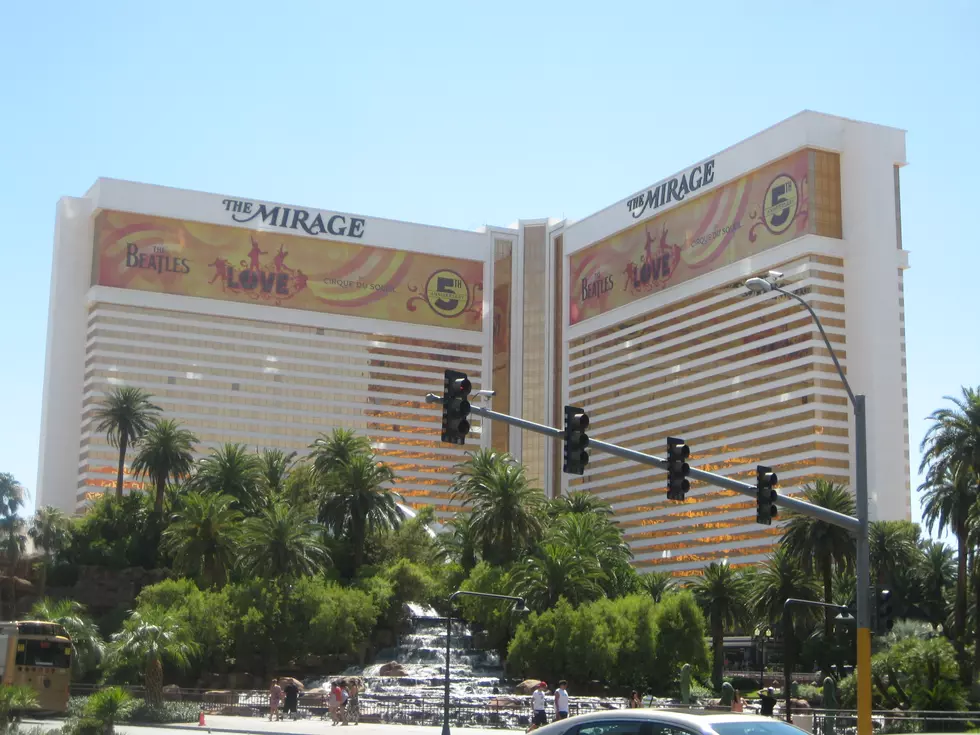 Traveling to Las Vegas? Here are a Few Recommendations
Chad Hasty, KFYO.com
Whenever I go on vacation, I like to bring back recommendations to friends and those of you who tune in to hear the show. Knowing that many people from Lubbock travel to Las Vegas, I decided to do a few reviews over some of the places I enjoyed in Vegas and maybe it will help give you a few ideas of places to go.
If you are looking for a great place to stay on the Strip, I highly recommend The Mirage. The Mirage is one of the original mega-hotel and casinos on the Strip, but that doesn't mean it's outdated. My wife and I stayed on the 27th floor overlooking the Mirage Volcano and the Strip. We stayed in the Tower Deluxe room which in my opinion is worth the upgrade over the Deluxe rooms that they have. You have more space and the women will love the bathroom and the jet tub.  Of course, it's Las Vegas so if you want a suite then The Mirage will have you covered.
The rooms are great, but what about the rest of the property? It's great as well. When checking in, you can't help but notice the huge aquarium in the lobby. Tons of fish and it's kinda nice just to look at it. The Mirage also features a beautiful atrium with flowers and waterfalls. The Mirage has a great casino with all the games you'd want to play. It's not cheap to play, but really no place on the Strip is. While we were there the minimum bets for Blackjack and Craps was $10 on one table each. One of my favorite parts of The Mirage was the pool. It was beautiful. Palm trees and waterfalls, for a minute you forget you are in Las Vegas. The best drink deal at the pool started at 8am, with $12 bottomless mimosas from 8-11am.  This might be the biggest tip you are going to get about the pool, so be sure to remember this. If you want a chair at the pool without any hassle, get there before 8:30am. The comments you've seen on places like TripAdvisor are true. The pool opens at 8am and by 7:45 there is a line waiting to get in. By 8:30 you will be lucky to find prime seating with more than 1 chair open. By 9:30 or 10am? Good luck finding a chair at all. On the days that we hit the pool, I'd wake up at 7:40am and get in line. It was worth it though. We had chairs and could hang out all day if we wanted to.
One of our favorite places to grab a drink was at Rhumbar inside the Mirage. Great drinks, good looking waitresses, and cigars! This is basically how all cigar/hookah bars should model themselves. Rhumbar was modern and casual. They had a DJ playing great music, but it wasn't too loud. The patio is fantastic as it overlooks the Strip and is pretty well shaded. They also have mist dispensers so it doesn't get too hot during the Summer. Of course you can also enjoy a drink and smoke inside, but I really enjoyed the patio. Rhumbar is a great place to light up your favorite cigar or try out one of the hookah's they have. Rhumbar also has a great Happy Hour with fantastic Rum Punch.
If you are a cigar smoker traveling to Las Vegas, Rhumbar must be on your list of go-to places.
Max Brenner is a restaurant and chocolate shop located inside the Forum Shops at Ceasers. The food is pretty good, but don't expect 5 stars. We had their Brenner Burger which was really good. The Brenner Burger is a BBQ burger (their secrete BBQ sauce is great!) served with waffle fries that have cocoa powder on them.
The real reason to hit up Max Brenner though is the chocolate. Wow. The desserts here are 5 star if you love chocolate. If you don't like chocolate, then you will probably be disappointed. For dessert my wife and I both had hot chocolate. My wife had the Choco-Pops Hot Chocolate which was dark chocolate and crunchy wafer balls. I had the Italian Thick Hot Chocolate (pictured above). It was absolutely amazing. The Italian Think is very rich and thick. It's like drinking melted candy bars. It was the best hot chocolate that I have ever had.
If you are looking for either a good meal or a great dessert, put Max Brenner on your list.
I really miss this place already. STK is a steakhouse inside the Cosmopolitan of Las Vegas. This isn't your grandfather's steakhouse either. It's dark, loud, and loaded with great food. STK fits perfectly with the Cosmopolitan's theme which is young, vibrant, modern, and fun.  STK is where steak meets nightclub after about 8pm. When we arrived STK just had some house music on, but it was turned up and people were having a good time.
We started our night at STK with the Foie Gras French Toast. Everything I had read about STK said not to leave until you've had it and I agree, it was good. All of the flavors complimented each other perfectly. For my entree, I had the 20 ounce bone in rib-eye. The steak was cooked perfectly. On the outside the steak had a crunch, but on the inside the meat was juicy and thick. It was the perfect rib-eye. As far as sides go, we had the mac & cheese, and yes that was amazing as well.
One of the nice things about STK is that they have different sizes of steak. You actually don't find that a lot in Las Vegas, but at STK they have many options for those small, medium, and large appetites. I highly recommend STK if you are looking for a great steak and a fun atmosphere.
Other Places to Check Out:
Spago- located inside the Forum Shops at Ceasars. Seriously, there is no reason for me to do a review of this great restaurant. It's amazing, and you will love it.
Heart Attack Grill- It's tasty, but not healthy. Very Vegas and a must try. If you are a health nut, don't go here. If you love burgers and fries cooked in lard, check it out. It's also cheap... you know for Vegas. Heart Attack Grill is located on Fremont Street.
Fremont Street- Old Vegas is crazy and a lot of fun. Cheap gambling, zip-lines, and interesting people. You just have to go there.
More From News/Talk 95.1 & 790 KFYO