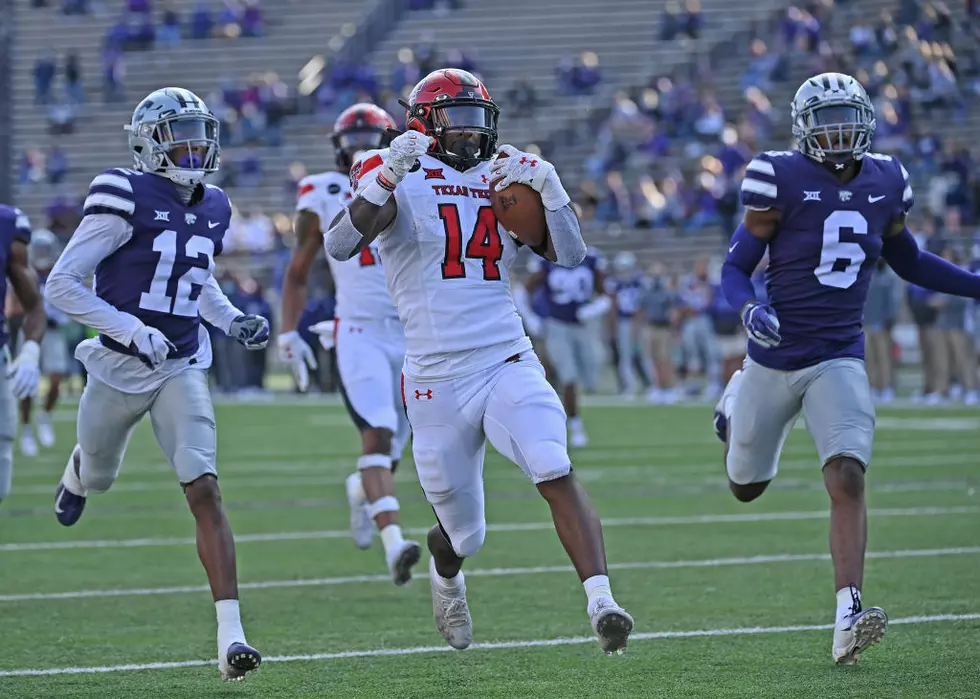 Texas Tech Only Projected to Win Five Times in 2022 With ESPN's FPI
Getty Images
If you run the same scenario 20,000 times, there is a chance that Texas Tech would end the season 5-7. The problem with the FPI predicting season totals is that the FPI is a fluid marker, if you win the first two games, you're FPI ranking improves and your percentages jump early.
Conversely, if you lose early, your FPI ranking is hindered and you won't be projected as strongly in the coming weeks.
In the most basic sense though, without most of the information that makes FPI credible like game results and strength of schedule remaining based on those results, Texas Tech is only favored in five games heading into 2022.
Both Murray State and Houston are projected to win in Lubbock. You're also the betting favorite in most books against the Houston Cougars. The Red Raiders are also projected to beat Kansas, big surprise.
Here are all 12 games projected win percentage for Texas Tech and a little more information on ESPN's FPI.
Texas Tech Will Go 5-7 if the FPI is Correct
The ESPN FPI, or the Football Power Index, is a mathematical formula like they have in any other league. It claims to, "measure a team's true strength on net points scale; expected point margin vs average opponent on a neutral field." according to ESPN. The projected results are based on 20,000 simulations of the rest of the season using the FPI as a model. The preseason projections are incomplete because a large piece of the puzzle is results that have already happened, impacting the remaining schedule. So, based on half the puzzle, Texas Tech is projected to get wins in five of their games. These projections change daily once the season starts, but it's good to get a baseline on what is analytically expected of you heading into the season.
Every Red Raider With an NFL Paycheck in 2022
There are at least 28 Red Raiders in various jobs and titles in the NFL. A star quarterback, an all-pro kick returner, a head coach, and assorted others. Let's take a look at which Red Raiders will shape the NFL in 2022.
Danny Amendola's Career Retrospective
Amendola played at Texas Tech and then went to the Dallas Cowboys as an undrafted free agent. He then bounced from the Eagles to the Rams where he spent four seasons. He found the most of his NFL Success with the New England Patriots where he won two Super Bowls in six seasons. Amendola finished his career with a season in Miami, and two seasons in Detroit before finishing in Houston for his final season.
More From News/Talk 95.1 & 790 KFYO