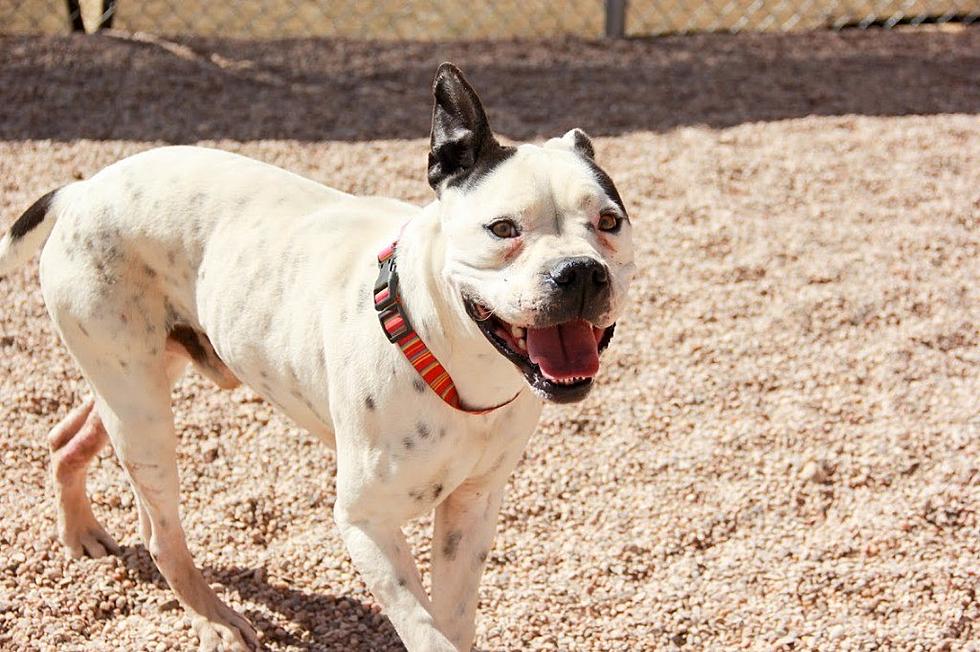 Sweet Sug Is Lubbock's Awesome Adoptable Pet of the Week
Lubbock Animal Shelter
Nothing makes me quite so instantly happy than the face of a smiling dog. Lubbock's Awesome Adoptable Dog of the Week is all smiles. Maybe that's why he's named "Sug," short for Sugar, because he's so sweet. As much as the staff at the Lubbock Animal Shelter and Adoption Center love him, it's past time he went to a forever home of his own.
From the shelter:
Sug is a 6-year-old male Pit Bull who has been with us for 39 days. He is very sweet and gentle, playful, protective, hyper, and active. He is up to date on all his shots, fixed, and microchipped.
I absolutely adore Sug's little speckle spots and his one-up, one-down ears. At 6 years old, he's had all the time he needs to work out all the puppy wiggles and become a chill, fun adult dog.
Remember, when you adopt from the Lubbock Animal Shelter and Adoption Center, your new family member comes up to date on shots, spayed or neutered (or with a certificate to get it done if they are a baby) and a microchip. All that vetting alone would cost you hundreds, but the Lubbock Animal Shelter provides these services to start you and your pet off on the right foot/paw easily.
So why the long stay for Sug? It's not his fault. It's just harder to place pit bull type dogs, even though "pit bull" is just a general term for broad-shouldered, short-faced dogs. It's not a breed, and that's one of the reasons I find breed restrictions in rentals so offensive. The only dog that ever attacked me was a chow, and I don't see them banned from apartments.
The Lubbock Animal Shelter is open Monday through Saturday 10 a.m. to 7 p.m. Meet your new best friend today.
Check out these 50 fascinating facts about dogs:
KEEP LOOKING: See What 50 of America's Most 'Pupular' Dog Breeds Look Like as Puppies
More From News/Talk 95.1 & 790 KFYO