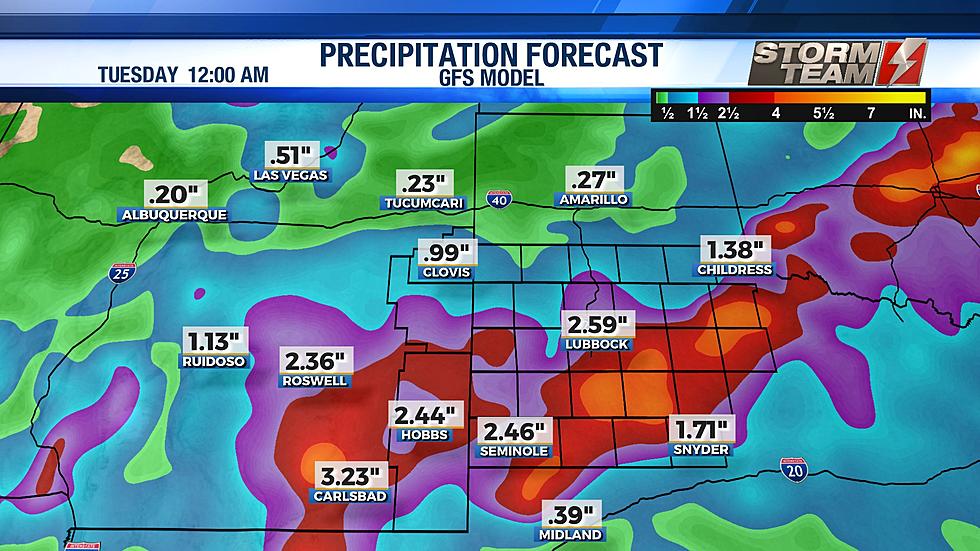 Lubbock Could See Rain, Hail + Cooler Temps This Weekend
Ron Roberts, RonRobertsTV, Twitter.com
So far, it's been a fairly typical summer in Lubbock. Sure, we had a day in the 80s recently, but we've also seen our fair share of warm, hot and extremely hot days in June. That's normal, of course.
This time of year, we start to think less about severe weather and instead wonder just how hot it will be for the 4th on Broadway Parade and Festival.
Beginning Friday, June 25th, though, the typical Lubbock summer will see a few changes. Yes, it's supposed to be hot today, forecasted to be around 98 degrees, but Lubbock and other portions of the South Plains could also see some rain this afternoon and evening. KAMC puts the chance of rain at 30 percent on Friday. Then, on Saturday, the real change begins.
On Saturday, high temperatures in and around Lubbock will be in the upper 80s/low 90s, with rain moving in Saturday afternoon. It's also supposed to rain on Sunday, with highs only in the upper 70s to low 80s. In fact, as of Friday morning, forecasted temperatures are supposed to be in the upper 70s and low 80s through next Wednesday, with possibly more rain on Monday.
KAMC's Ron Roberts says Lubbock could see rain, hail and urban flooding this weekend:
The forecast, as of Thursday, called for a total of 2.49 inches of rain over the course of four days in Lubbock. Roberts said there will be "thunderstorm after thunderstorm" on Saturday.

On Saturday, there is a risk of 1.5 hail and winds of 65 miles per hour. The forecast for Sunday calls for hail of 1 inch.

Roberts said there could be crop damage, property damage and "urban flooding for sure."
Enjoy the rain and cooler temperatures while you can. It's still summer and we still live in Texas, which means scorching hot days will return. But 80-degree weather at the end of June and early July? Not bad.
Speaking of future temperatures...one forecast I looked at earlier today showed the forecasted high temperature for 4th on Broadway on July 3rd to be around 87 degrees. Of course, that could, and probably will, change.
10 Most Expensive Neighborhoods in Lubbock
Here are the 10 most expensive neighborhoods in Lubbock based on data found on
Neighborhood Scout
.
10 Safest Neighborhoods in Lubbock
Here are Lubbock's 10 safest neighborhoods according to violent and property crime numbers found on
Neighborhood Scout.
8 of the Most Lubbock Things You Can Do
These are the most extremely Lubbock things to do.
Lubbock Pools & Places to Swim
Here's a rundown of several pools to cool off during the summer in Lubbock, Texas.
More From News/Talk 95.1 & 790 KFYO