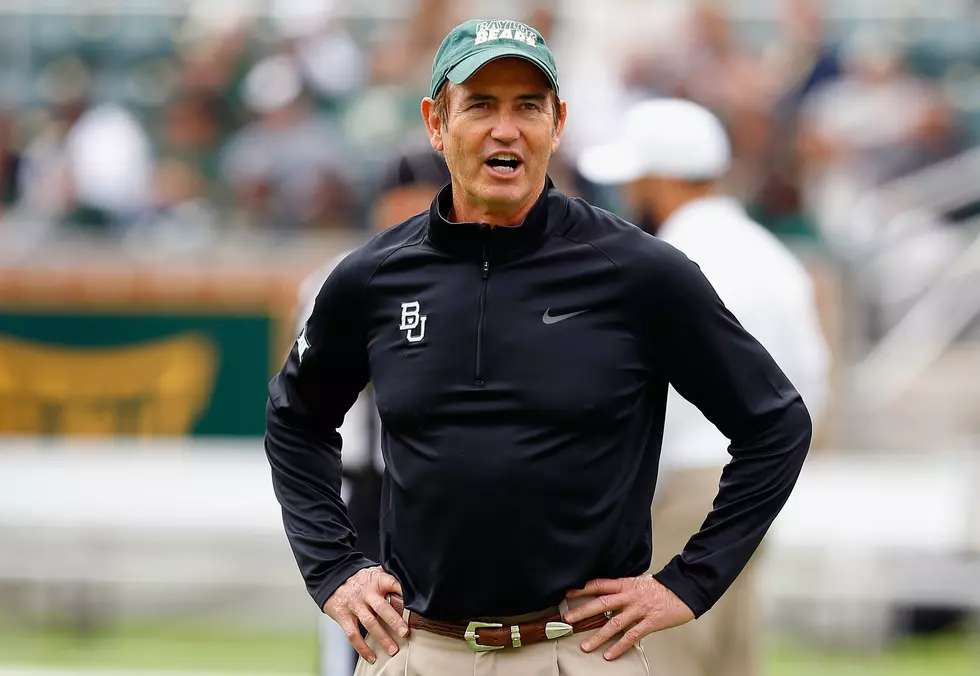 I Repeat: Art Briles Will Never Coach College Football Again
Tom Pennington/Getty Images
You might be saying, but Rob, Art Briles was just hired last week by Grambling State, what do you mean he won't be coaching again in College Football? Well, dear reader, the man has already resigned his post due to the deserved backlash surrounding the hire.
Briles was hired by former Cleveland Browns coach Hue Jackson to be the offensive coordinator on Thursday, February 24th. The school didn't release any press on the hiring, instead let a local news station do a one on one interview to somehow insulate themselves from obvious backlash.
That did not work and Briles has already resigned from his post.
"Thank you for giving me the opportunity to be a part of your coaching staff at Grambling State University," Briles said in a statement to Sports Illustrated. "Unfortunately, I feel that my continued presence will be a distraction to you and your team, which is the last thing that I want. I have the utmost respect [for] the university, and your players."
Briles is most known for his run at Baylor where the team went an absurd 65-37 after being one of the worst teams in the conference for a long stretch. Then, in 2016 a sexual assault scandal rocked the Baylor Athletic Department and he was suspended and eventually fired after eight seasons in charge.
Many people still try to defend Briles and his involvement in the Baylor scandal citing an NCAA infractions panel that ruled that the former head coach was not guilty of any NCAA violations in August of last year. What those people fail to mention is the quote from the panel that also said he, "failed to meet even the most basic expectations of how a person should react to the kind of conduct at issue in this case." The panel continued, "Furthermore, as a campus leader, the head coach is held to an even higher standard. He completely failed to meet this standard."
Does that sound like the NCAA wanted to clear Art Briles?
The first sign of trouble around the hire, besides the intense social media backlash, was Grambling State saying that the head coach Hue Jackson's sentiments about the hiring were Jackson's thoughts and not reflective of the School's perspective.
Briles has nearly been hired before. Back in 2017, a CFL team announced the hiring but public pressure shuttered the hire. Briles did coach for a year in Italy and coached Mount Vernon High School in 2019 and 2020.
The latest near-hire of Briles confirms my long-held belief that Art Briles will never coach college football again. I said so when his name was brought up in relation to the Texas Tech job. I said so when Southern Miss tried to hire him in 2019. I've said it a thousand times since 2016.
It doesn't even matter if you think that Briles was a scapegoat and that he's innocent. The name Art Briles is just too toxic to allow into your program. The worst part of the situation is that Kendal Briles and other assistant coaches involved in the Baylor program during the scandal have all resurrected their careers. Even Ian McCaw, the Baylor AD at the time, immediately got another gig at Liberty University.
Those coaches are lucky that the stench of their actions got pelted onto Briles, but that doesn't change the smell of his name.
He might get some analyst job, but Art Briles will never coach on a college football field again.
20 Texas Places We Have All Been Saying Completely Wrong
The 'Hidden' BBQ Oasis in Olton, Texas
More From News/Talk 95.1 & 790 KFYO