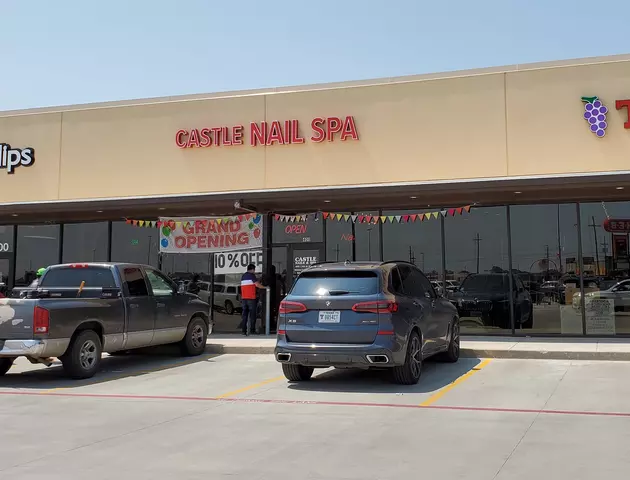 Fun Fact: There Are Nearly 6 Million Nail Salons In Lubbock Now.
Image: Lance Ballance-Townsquare Media
In case y'all haven't figured it out yet, I notice things. I'm an observer of life and the world. I think of things, and I start letting it flow. It seems, however, that some people get a little rumphurt when you look at anything cross-eyed and express their anger in the Facebook comments. I'm sorry for your loss, and please...show us on the doll where I hurt you.
That being said...in my travels throughout our beloved metropolis, I have noticed an unusually high concentration of a certain personal care provider that is my own little oasis for bliss and relaxation.
The omnipresent Nail Salon.
Here in Lubbock, it seems like in every single strip mall there is a purveyor of nail nirvana, and pedicure peacefulness. One of my guilty pleasures is to jam my gnarled hooves into a warm spa bath, and let a nail tech go to work on shining up and smoothing and soothing my tootsies.
Driving back from lunch today, I noticed that directly across from one another, there was a nail salon that had just opened up in the HEB parking lot on 114th, and one that was preparing to open directly across the street between Costa Vida and Five Guys.
After doing some quick calculations using common core math, I deduced that Lubbock probably has 1 nail salon or every Lubbock County Resident. Of course, your actual highway mileage may vary.
Either way, they seem to be EVERYWHERE. Seriously, as you drive take a look around. In fact, I think I just saw our own Wes Nessman installing a pedicure chair in our conference room. Kudos for creating another revenue stream...and remember, my feet are very ticklish, and I'd like clear polish, please.
Our comment section is open.
Luxury Castle Airbnb Experience in Wolfforth, Texas
This 5-bedroom, 10-bed, 4.5-bath home is available for rent
on Airbnb
. For $781/night, you can live the fantasy life of your dreams in this mini-castle near Lubbock, Texas.
The 25 Best Suburbs in Texas to Raise a Family
These are the 25 best suburbs to raise a family in Texas ranked by
Niche.com
.
LOOK: Route 66's quirkiest and most wonderful attractions state by state
Stacker
compiled a list of 50 attractions--state by state--to see along the drive, drawing on information from historic sites, news stories,
Roadside America
, and the National Park Service. Keep reading to discover where travelers can get their kicks on Route 66.
LOOK: Here are the best lake towns to live in
Many of the included towns jump out at the casual observer as popular summer-rental spots--the Ozarks' Branson, Missouri, or Arizona's Lake Havasu--it might surprise you to dive deeper into some quality-of-life offerings beyond the beach and vacation homes. You'll likely pick up some knowledge from a wide range of Americana: one of the last remaining 1950s-style drive-ins in the Midwest; a Florida town that started as a Civil War veteran retirement area; an island boasting some of the country's top public schools and wealth-earners right in the middle of a lake between Seattle and Bellevue; and even a California town containing much more than Johnny Cash's prison blues.
More From News/Talk 95.1 & 790 KFYO