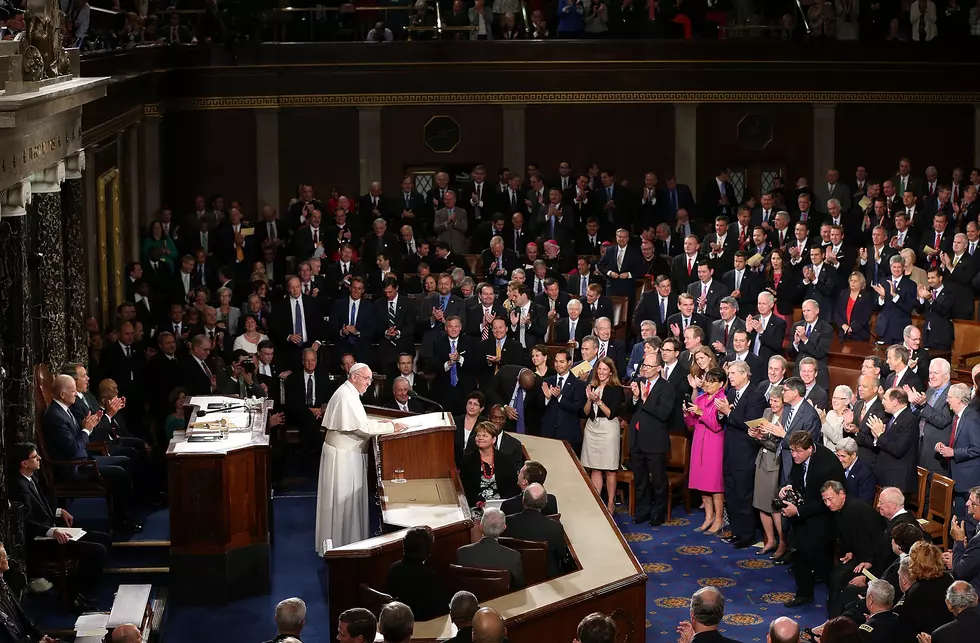 Chad's Morning Brief: Pope Francis Addresses Congress and Wendy Davis Is Back
Win McNamee, Getty Images
Here are some of the issues that will be discussed on today's edition of The Chad Hasty Show.
Pope Francis Addresses Congress
Pope Francis spoke to Congress yesterday in a historic speech that drew both praise and criticism. According to POLITICO, both Republicans and Democrats shared in their mixed feelings for what the pope had to say.
Pope Francis stood before a bitterly divided U.S. Congress on Thursday and reminded lawmakers of that most golden of rules, "Do unto others as you would have them do unto you."

Those others, the pope made it clear to the chagrin of some Republicans, include immigrants, the impoverished, the Earth itself, and political rivals.

In white robes that glowed against the austere setting, and flanked by two former altar boys — House Speaker John Boehner and Vice President Joe Biden — the Roman Catholic leader urged lawmakers to remember their responsibilities to their fellow citizens, adding: "Legislative activity is always based on care for the people."

The speech — the first by a pope to a joint meeting of Congress — combined words of faith with unmistakable political and policy appeals and it offered something to like for each of America's two main political parties. But overall, with its much stronger emphasis on the environment and welcoming immigrants, calls to end the death penalty and the arms trade, and relatively brief and opaque references to stopping gay marriage and abortion, Francis' words clearly cheered Democrats more than Republicans.

As the speech wore on, the partisan divides in Congress became more apparent, with many Republicans either not clapping or not standing when the pope discussed immigration and climate change. Republicans were quick to stand and clap when the pope mentioned the need to protect life, but seemed stunned when he immediately also called for an end to the death penalty, which instead drew cheers from some Democrats.

The Argentine-born Francis spoke softly and somewhat haltingly in English, a language he is not that familiar with, reading through spectacles from a prepared paper text. Behind him, Biden and Boehner appeared visibly moved.

Francis invoked four figures from American history — former President Abraham Lincoln; the Rev. Martin Luther King Jr.; Catholic social justice leader Dorothy Day; and the Cistercian monk Thomas Merton — to both praise the United States ("a land of dreams") but also urge it to live up to its global challenges.

He warned against not just religious extremism but "every form of polarization, which would divide it into two camps" — a potential reference to the deep partisanship in the U.S. legislature, which is on the verge of spurring a potential government shutdown. In calling for greater political cooperation, Francis also appeared to ever-so-subtly rebuke the U.S. campaign finance system, saying, "If politics must truly be at the service of the human person, it follows that it cannot be a slave to the economy and finance."
It was predictable that his speech would be both embraced and criticised. Democrats will love his comments on climate change, but ignore him of life issues. Republicans will applaud the life comments and dismiss his thoughts on climate change.
Here is how I will look at this. On religious issues, hearing what the pope says is interesting. On political issues, like climate change, I don't really care. Remember, not even all Christians care about what the pope has to say on religious issues. I don't know any Catholics who will be persuaded by the pope on climate change.
Wendy Davis is Back, Sort Of
Remember Wendy Davis, aka Abortion Barbie? According to the Star Telegram, she is back and floating the idea of running for office again.
"When I lost the gubernatorial race, I felt a responsibility to other women who are perhaps thinking of running for office one day to demonstrate that it's OK if we lose," Davis told the magazine. "Sometimes we're going to.

"We've got to hop right back up and put ourselves out there again, and know that losing isn't the worst thing in the world. And honestly I hope to do that at some point."

What's next?

There has been much speculation on what Davis will do.

It has been nearly a year since the election and Davis has traveled around, making countless public speeches and talking about a new initiative to promote gender equality that she hopes to soon unveil.

The initiative is geared to bring more women's voices into the political discussion.

Local political observers have long speculated she might again run for office, return to her legal work or pick up a political assignment or private job.

They've also said she could end up working for a national progressive nonprofit group or perhaps be appointed to a post by President Barack Obama.

"Getting beaten doesn't close all the doors," Cal Jillson, a political science professor at Southern Methodist University in Dallas, has said. "There are still lots of doors. She just has to decide which one to go through."

'My voice was getting lost'

Davis — whose gubernatorial campaign was marked by media scrutiny on issues ranging from errors in her biography to campaign mismanagement — said there are "several things" she would do different if she runs for office again.

"When you get into a race of that magnitude — and it was my first experience on a platform of that magnitude — you tend to have to rely on a team of people around you to help shape everything you do, from your day-to-day logistics to your speeches to your priorities and your messaging," she told Rolling Stone. "I felt like as the months ticked by, my voice was getting lost."

And if she was running for office again today, Davis said she would speak out more on the very issue that drew her nationwide attention.

"We sort of assumed, well, everyone knows where I stand on choice and on reproductive autonomy — let's move on to other issues so they can see the other priorities I have as well, like public education, for example," she said. "But I think people really did want to hear more about (reproductive rights) in the election, and I certainly want to talk about it.

"It's been one of the most freeing parts of losing the election and not being an officeholder or a candidate right now: I can focus on exactly the things that matter to me, and spend my energies doing that."
Wendy Davis is wrong, on so many things. Her voice didn't get lost. Texans knew exactly who Wendy Davis was and Texans rejected her voice and her thoughts. Republicans would love for Davis to return as it only strengthens the Republican Party in Texas.
These and many more topics coming up on today's edition of The Chad Hasty Show. Tune in mornings 8:30-11am on News/Talk 790 KFYO, streaming online at kfyo.com, and now on your iPhone and Android device with the radioPup App. All guest interviews can be heard on our KFYO YouTube page after the show and online at kfyo.com.
More From News/Talk 95.1 & 790 KFYO