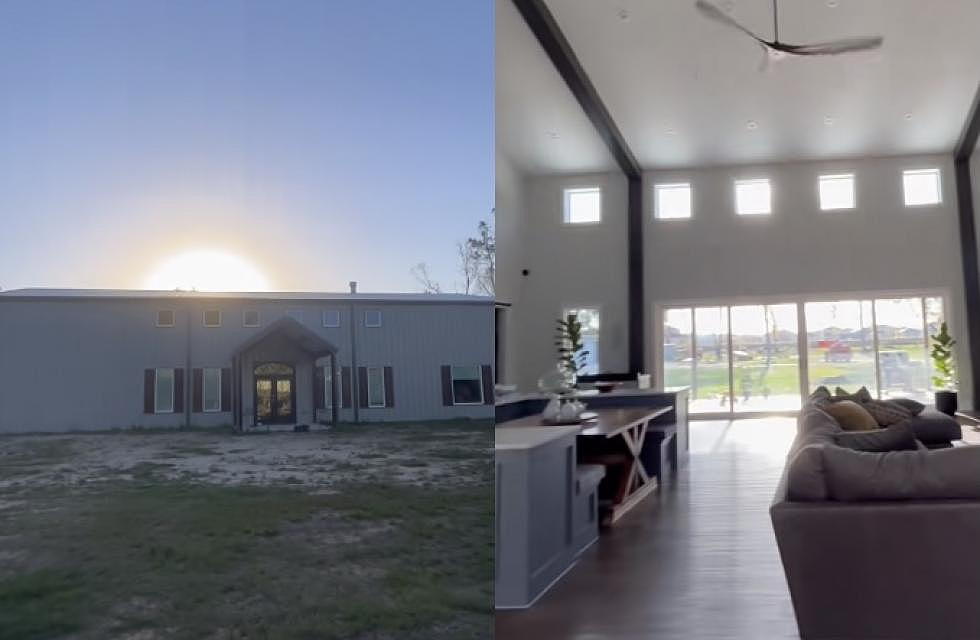 This Texas Barndominium Might Be Your New Dream Home
@mariaselene89 via TikTok
The latest real estate trend that many people are falling in love with are barndominiums.
Barndominiums are affordable, low maintenance, energy-efficient, and practical homes that originated from barns that were being converted into residential homes. Now they are commonly built from steel and are completely customizable to the homeowners' wants and needs. They are especially used as a low-cost way to combine a home and workshop into one highly practical building.
These homes can be as simple or as fancy as you'd like, and are perfect for those wanting to build their own home on a large piece of land. While they aren't always the most aesthetically pleasing from the outside, the interior is where these homes really shine. Take this Texas family's home as a great example of what a beautiful barndominium can look like.
The home is stunning with high ceilings, an open floorplan, and plenty of space. While you might assume staying in a "barn" would be dak and dreary, you can have as many windows as you want. I've even seen people install glass garage doors onto their barndominiums so they can open up the whole side of the house when the weather is nice.
I would personally love to build my own barndominium one day. It's always been a dream of mine to get a large piece of property to build a custom home on, so why not go for this cost-effective option? If you are interested in learning more about barndominiums, you can find more information at worldwidesteelbuildings.com.
The Oldest Home for Sale in Lubbock
This is the
oldest home
currently for sale in Lubbock as of April 21st, 2022. With the large lot, pool, and unfinished addition being built on this home, it's currently listed at $523,850.
New South Lubbock Home for Sale at Just Under $1 Million Dollars
This
new build
in South Lubbock's Vintage Township is listed at $997,950.
More From News/Talk 95.1 & 790 KFYO