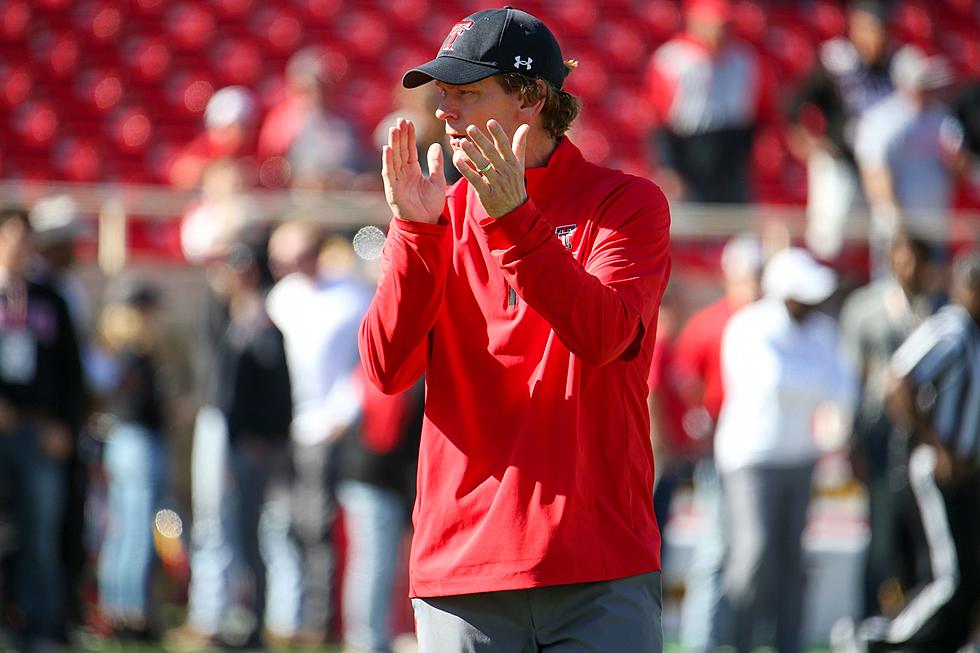 Sonny Cumbie Forever (or at Least a Few More Seasons)
Paul Roberts for kkam.com
A quick recap of the timeline that brings us here.
On October 25th, Matt Wells was fired as the head coach at Texas Tech. Former Red Raider quarterback Sonny Cumbie was elevated from offensive coordinator to interim head coach.
On November 8th, Joey McGuire was named head coach of the Red Raiders. Cumbie stayed on as the interim head coach, allowing McGuire plenty of time to recruit and build a staff with three games remaining in the 2021 season.
On November 10th, Cumbie related to the media that he'd love to stay at Texas Tech if given the opportunity.
In between November 8th and today, I've been advocating for Cumbie to retain his position. My Twitter timeline at @robbreauxshow has been filled with my interpretation of the stats surrounding the Texas Tech offense and my opinion on what I think is an offensive scheme full of potential with better offensive line play and consistent quarterback play.
Then, on November 24th, McGuire announced that Cumbie was officially being retained:
That's nearly three full weeks of fighting with people who tried to tell me Cumbie should be canned with the rest of the men on staff at Texas Tech. Even after the first home shutout for Texas Tech since 1987, I stood firm in my opinion that with a change at the top and an influx of talent, Cumbie's offense lends itself to what I call complementary football.
It's not going to be the best offense in the country, but it's going to be incredibly efficient and allow the defense to flourish. Oklahoma State plays that brand of football. Baylor plays that brand of football. Texas Tech will attempt that brand of football in 2022.
When Sonny Cumbie was brought in by Wells in the offseason, I was not impressed. I can pull the tape or go back to those Twitter receipts when I bashed TCU's offense under Cumbie's direction. I was mostly frustrated because Kirby Hocutt branded the hire as a return to the Air Raid. That was a disconnect to me.
I'm so glad to report that isn't what Cumbie has tried to do at all.
Cumbie's offense is 31st in the nation in points per drive, even after being shutout and playing large chunks of the season with three different quarterbacks. Texas Tech's offense is 33rd in the OFEI, which is an offensive efficiency stat. The Red Raiders are 18th in the country in yards per play.
If you're looking at stats and rankings for the Texas Tech offense to justify wanting to fire Cumbie and move on, I understand the feeling. The total yards and points look pedestrian compared to coordinators like Zach Kittley at Western Kentucky, who was a popular choice among the Texas Tech fanbase to replace Cumbie.
McGuire gave fans a big clue in his opening press conference. He wants to play great defense. The Air Raid and similar systems, like Kittley's, just are not conducive to great defense. Cumbie's system, with better offensive line play, absolutely is.
The next question is, who else stays? I'm assuming a new offensive line coach is automatic. I think WR coach Joel Filani and RB coach DeAndre Smith have performed really well this season. TE coach Luke Wells will probably follow his brother.
Defensively, I think a new coordinator will be named next week, along with a brand new staff on that side of the ball. I do think the Red Raiders have improved immensely on that side of the ball in the last two years, but I think McGuire is eyeing a brand new system to find more consistency and efficiency to match Cumbie's offense.
12 Potential Bowl Matchups for the Red Raiders
There are five bowls that Texas Tech will likely go to at the close of this season. The Liberty Bowl or The Texas Bowl vs an SEC team, The Cheez-It Bowl vs an ACC team, or The Guaranteed Rate Bowl vs a Big Ten team are the most likely options.
There are also possibilities for the Armed Forces Bowl or the First Responders Bowl against a Pac 12, AAC, Conference USA, or ACC team.
Here are 12 potential teams that could match up with the Red Raiders in one of the aforementioned Bowl Games.
Texas Tech Fans Rush the Field After 41-38 Iowa State Win
More From News/Talk 95.1 & 790 KFYO