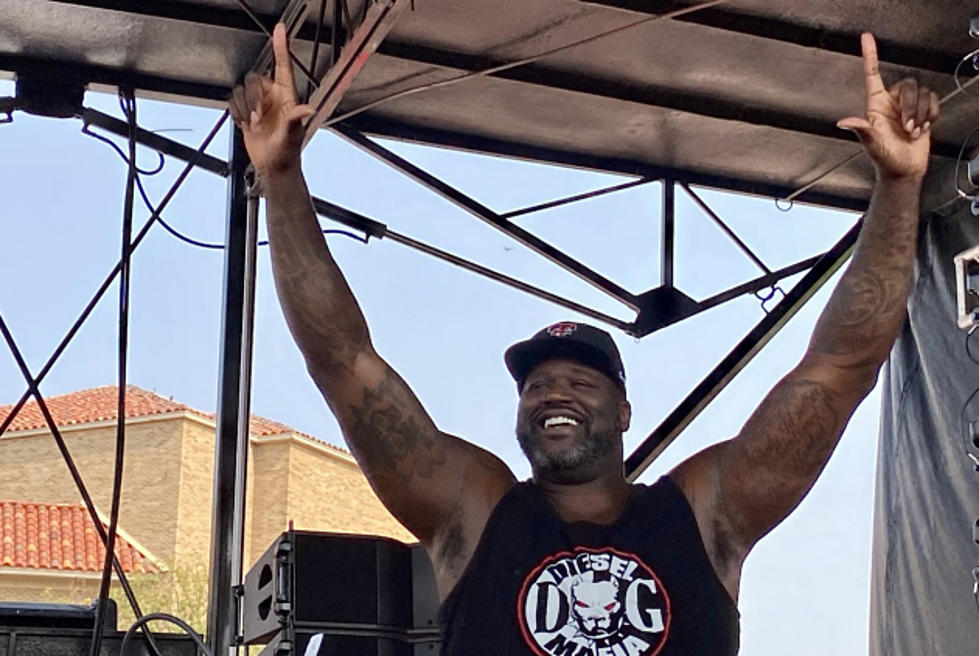 Shaquille O'Neal Gets His Guns Up in Lubbock [Photos]
Justin Massoud, Townsquare Media Lubbock
Shaquille O'Neal is the most entertaining human being on planet earth. You could argue that there are other people that can lay claim to that title, but I'd argue that Shaq is at least on par with anyone else in America. Shaq is also successful at nearly anything he's ever done.
He was a Hall of Fame basketball player. He's a part of the best professional sports show on television. He's been in a movie where he played a rapping genie. He's a platinum record-making artist. And now, he's an EDM swiping DJ that entertains the masses.
He also knows how to play to his audience. Just look at these double guns up he's throwing to the Red Raiders. He was also allegedly carrying around a giant bottle of vodka, so he knows how to fit in with the locals as well.
Just take a listen to his first song and tell me that Shaq doesn't know how to hype a crowd. You can't. He started his set with "The Matador Song." He's such a legend. I love it.
Here's Shaq arriving at the Engineering Key on Texas Tech campus and taking the stage:
Speaking of fitting in with the locals, does he have any eligibility left? He was only at LSU for three seasons. JR Smith, another former NBA player, recently went back to college to play golf. I think Shaq could be a contributor for the Red Raiders.
Take a look at the photos from the set and feel the energy from Shaq and the raucous crowd ahead of kick-off at the home opener
Shaquille O'Neal Performs Live DJ Set in Lubbock, Texas
DJ Diesel helps Lubbock get lit before the Texas Tech-Stephen F. Austin game on September 11th, 2021. The basketball legend DJ'd at the Engineering Key on Texas Tech University campus.
The 36 Best Action Shots From Every Patrick Mahomes Playoff Game
More From News/Talk 95.1 & 790 KFYO