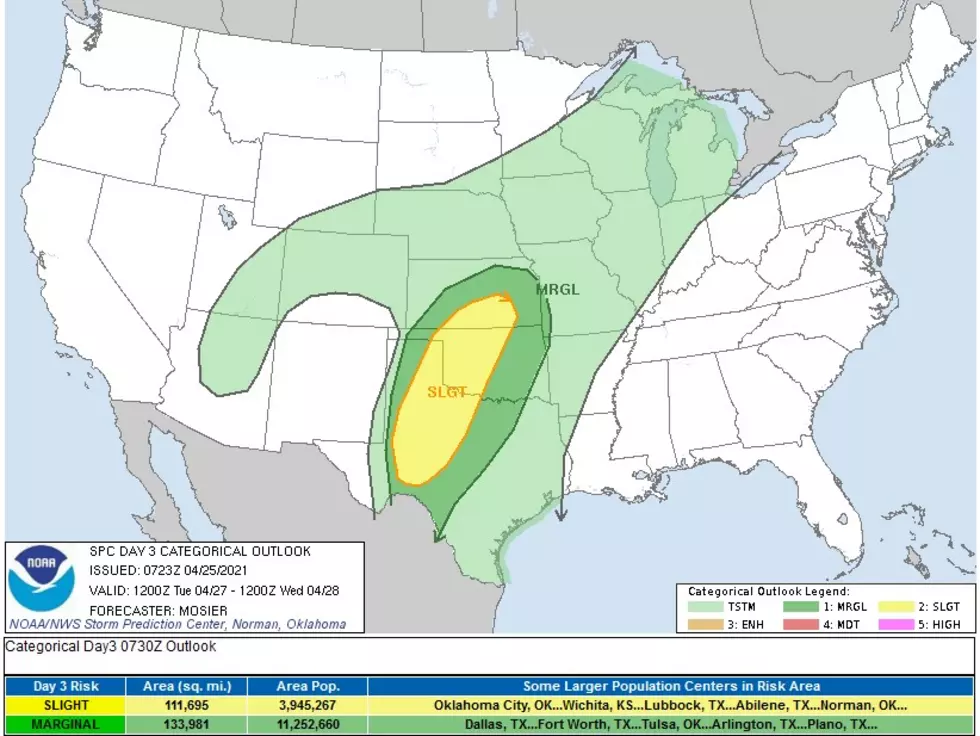 Severe Weather Possible on Tuesday for Lubbock and South Plains
Storm Prediction Center, National Weather Service
Severe weather season has been a little bit slow-going for Lubbock and the South Plains, but that may change later this week.
The Storm Prediction Center's 3-Day Outlook put Lubbock, and the eastern South Plains, in the middle of the forecast area for severe weather on Tuesday (April 27). The Storm Prediction Center's forecast (which can be read below) notes that a dryline is supposed to form across Kansas, Oklahoma and Texas, which could then spark Tuesday's severe weather.
Specifically, for Lubbock and the eastern South Plains, the main hazards on Tuesday could include winds above 60 mph, hail between 1"-2" inches, and possible tornadoes.
If any severe weather does break out on Tuesday, KAMC's Ron Roberts and Rob Snyder, will have the latest updates for you on News/Talk 95.1 & 790, KFYO; Awesome 98 (98.1 FM) and Lonestar 99-5.
Day 3 Convective Outlook  
   NWS Storm Prediction Center Norman OK
   0223 AM CDT Sun Apr 25 2021

   Valid 271200Z - 281200Z

   ...THERE IS A SLIGHT RISK OF SEVERE THUNDERSTORMS FROM PORTIONS OF
   WEST TX AND THE TX PANHANDLE INTO WESTERN/CENTRAL OK AND
   SOUTH-CENTRAL KS....

   ...SUMMARY...
   Severe thunderstorms are possible Tuesday afternoon through Tuesday
   night from portions of West Texas and the Texas Panhandle into
   western/central Oklahoma and south-central Kansas.

   ...Synopsis and Discussion...
   A deep upper trough is forecast to be in place over the western
   CONUS early Tuesday morning. Strong mid/upper level flow will extend
   throughout the basal portion of this trough, beginning the period
   arced from off the central CA coast across northern Mexico and into
   the southern High Plains. This upper trough is expected to make
   modest eastward progress throughout the day while an embedded
   shortwave trough ejects over northern/central NM into eastern
   CO/western KS. This evolution will help spread the strong mid-level
   flow over much of the southern and central Plains. 

   The surface pattern early Tuesday will likely feature a low near the
   central NE/KS border, with a dryline extending south-southwestward
   across central KS and northwest OK, and into the TX Panhandle. This
   dryline will likely remain in place, sharpening throughout the day
   as moderate low-level moisture advection continues to its
   east/southeast. Low-level convergence into this boundary combined
   with increasing large-scale ascent attendant to the approaching
   shortwave is forecast to result in convective initiation amid a
   diurnally destabilizing air mass. Some uncertainty exists regarding
   storm coverage, largely as a result of unknown cap strength and
   quality of the moisture return. Even so, environmental conditions
   support a predominantly supercell mode with any storms that do
   develop. All severe hazards are possible, including very large hail
   and tornadoes. 

   Central High Plains surface cyclogenesis will likely cause a
   westward retreat of the dryline during the evening. At the same
   time, a strengthening low-level jet will increase warm-air advection
   across the boundary. These factors are expected to result in
   additional storm development from the Permian Basin into
   south-central KS. Primary threat with these evening and overnight
   storms is large hail.

LOOK: Famous Historic Homes in Every State
More From News/Talk 95.1 & 790 KFYO