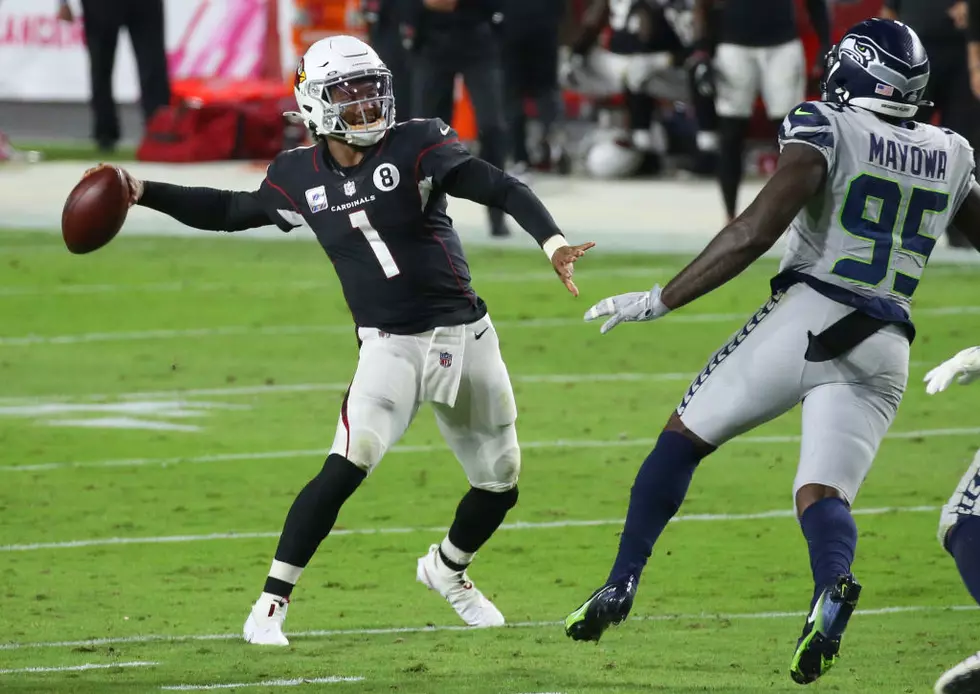 Kyler Murray Laughs at Seattle Defense Monday Night Football
(Photo by Christian Petersen/Getty Images)
On Monday night Kliff Kingsbury's Arizona Cardinals announced themselves as legit contenders in the NFC West and in doing so announced themselves as a dark horse for the NFL Playoffs. The Cardinals are now 5-2 after beating the previously undefeated Seattle Seahawks in overtime 37 to 34.
The game itself was crazy with the Seahawks leading the entire game until the Cardinals tied it up with fifteen seconds left in regulation. In overtime, the Cardinals forced a Seahawks punt and marched down the field with ease. Kingsbury decided to kick a 41-yard field goal on 2nd down for the win and had to ice his own kicker with a timeout when the Cardinals almost took a delay of game.
The Cardinals would then miss the kick.
Russell Wilson and the Seahawks couldn't convert on the golden opportunity as he threw a third interception in the game. This time to rookie linebacker Isaiah Simmons.
Kyler Murray would take advantage again and get Zane Gonzalez in range for a second overtime field goal attempt. This time, at 49-yards, Gonzalez would put it dead center and end the game in a decisive victory instead of a tie.
There were two moments during the game that incited major reactions on twitter.
The first was when DK Metcalf ran 22.64 miles per hour to chase down Buddah Baker who had intercepted a Russell Wilson pass nearly 90-yards down the field. Amazing effort and athleticism to make that happen.
The next moment came when Kyler Murray read the coverage of the Seahawks, saw it was man coverage and literally laughed out loud during his wind up because he knew he was about to have a completion. Hopkins would reel in the catch for a touchdown.
Kingsbury said in his availability Monday afternoon that the Cardinals had also pretended to not be ready for the snap to catch the Seahawks off-guard. Could be another reason that Kyler was cracking a smile.
Murray was laughing with his coach on the sideline too.
Speaking of the Big 12, former Red Raider Jordyn Brooks got the start at linebacker in the game and had seven tackles including one for loss. He was pivotal in a goalline stand the Seahawks forced in the first half. Getting to Murray on a designed QB run when most linebackers have missed on him this season.
The 10 Best Texas Liquors
The 10 Best Texas Liquors
More From News/Talk 95.1 & 790 KFYO