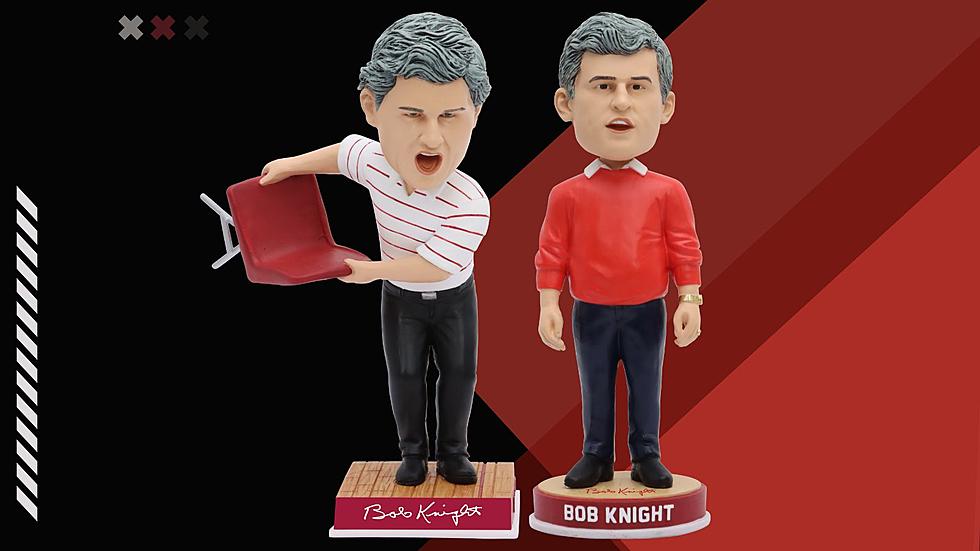 Former TTU Basketball Coach to be Commemorated in Fun Way
Bob Knight Bobblehead, Phil Sklar
If you grew up in Lubbock or are just a big Texas Tech sports fan then you might remember the legendary basketball coach, Bob Knight. Bob Knight was hired on by Texas Tech University back in 2001 to serve as the head coach for the men's basketball team. Coach Knight did help the Texas Tech men's basketball team get into the NCAA tournament for the first time since 1996. Coach Knight did retire from coaching altogether back in 2008 where his son Pat Knight filled the head basketball coach position at Texas Tech.
What's so important about Coach Bob Knight? The National Bobblehead Hall of Fame and Museum's has announced that they have partnered with the Knight Legacy in honor of Coach Knight and his achievements. Coach Knight was known for wearing his classic red sweater while coaching and for the chair throwing incident. The chair throwing incident (or chair game) occurred back in 1985 when Knight was coaching Purdue and in opposition to a call threw his chair across the Assembly Hall court. Those two iconic moments associated with Coach Bob Knight will now be remembered forever in the form of two bobbleheads.
Those bobbleheads can be pre-ordered through the National Bobblehead Hall of Fame and Museum's website. There is a bundle price for both bobbleheads or they can be purchased individually but this a pre-order. Which does mean that you will have to wait until December for you to get your own Coach Bob Knight, they are on a limited run.
Guns N' Roses at Saratoga Performing Arts Center 2023
Guns N' Roses returned to New York's Saratoga Performing Arts Center for the first time in over 3 decades. The show on Friday September 1, 2023 was the only amphitheater show scheduled on this tour. This is what it looked like.
September 2023 New Music Releases
More From News/Talk 95.1 & 790 KFYO