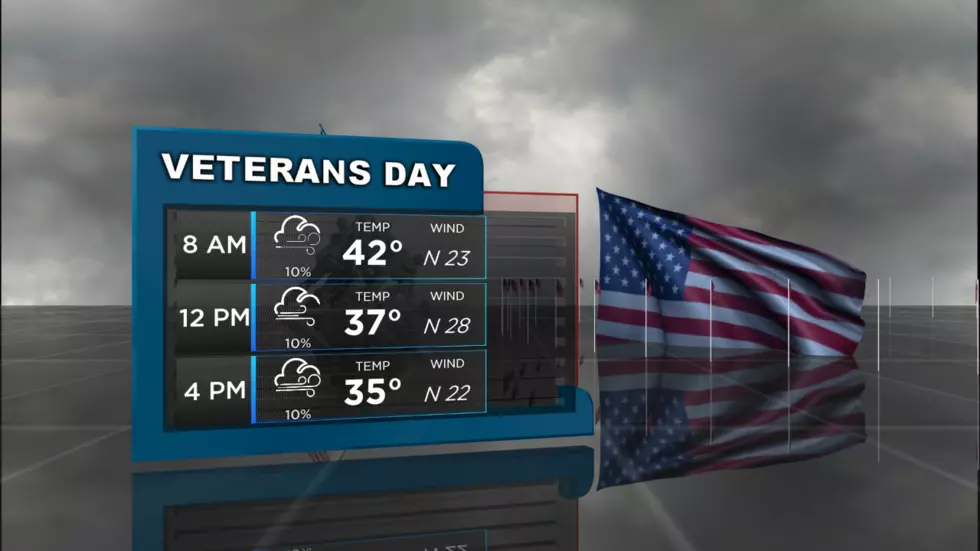 Frigid Temperatures, Possible Freezing Rain/Drizzle For Veterans Day
Kelly Plasker
A strong cold front will be arriving overnight through the early morning hours, and behind this front is gusty wind with some of the coldest air of the season.
Veterans Day will be one in which high temperatures are achieved in the early morning hours instead of the afternoon when typical maximum heating occurs.
Temperatures by sunrise will be in the low 40's. The cold front is on track to bring northerly wind with sustained speeds of 25-30mph to Lubbock county by 3 A.M. and by noon on Veterans Day temperatures will drop to near freezing around 34°.  Wind chill will make it quite unpleasant to be outdoors during the day and residents are advised to bring in pets and plants while this cold air mass dominates the region.
As the day progresses a slim chance for some freezing rain/drizzle will be possible, though accumulation amounts will remain very low some areas, particularly overpasses and bridges may develop icy areas.
During the last winter-like event the City of Lubbock reported over 80 incidents involving vehicles which makes any precipitation a potential hazard for the region while temperatures remain below freezing for much of Monday and Tuesday under mostly cloudy conditions.
Tuesday morning temperatures will be flirting with record breaking lows in the teens with wind chill making it feel much colder to start the day. Exterior pipes and faucets should be covered to avoid cracks and leaks from developing.
Afternoon temperatures during the next week will remain below average and feel much more winter-like until next weekend when data suggests we will have a slight chance for showers to develop during the Texas Tech v. TCU football game.
More From News/Talk 95.1 & 790 KFYO