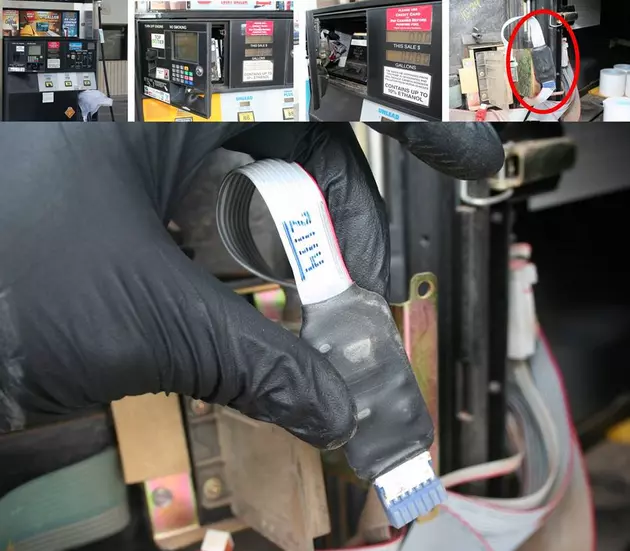 Lubbock Police Discover Credit Card Skimmers at Local Gas Station
Lubbock Police Department via Facebook
Two skimmers were discovered at a Valero gas station in Lubbock, sparking concern among residents that their credit card information might be compromised.

According to the Lubbock Police Department, the skimmers were found attached to gas pumps at the Valero station located at 5002 Slide Road. One of the skimmers was discovered inside a pump by an employee during maintenance.
Police say there's no way to know how long the devices were attached or how many people were possibly affected.
Security website Krebs on Security explains that a skimmer is "a device made to be affixed to the mouth of an ATM and secretly swipe credit and debit card information when bank customers slip their cards into the machines to pull out money."
Skimmers are constantly evolving and pose a security threat to people who regularly use ATMs or a gas station fuel pumps. They are hard to spot and are often well-hidden. Victims often don't realize they're victims until they notice unusual activity on a bank statement or receive a call from their bank directly.
Avoid paying at the pump. Walk inside to pay when possible.
Choose a pump near the attendant. Skimmers prefer pumps out of view of the attendants.
Check your account frequently and report fraudulent charges immediately.
If you have any information about who may have placed the skimmers or any others in Lubbock, contact the Crime Line at: 806-741-1000.
BONUS

The 10 Most Wanted in Lubbock
More From News/Talk 95.1 & 790 KFYO