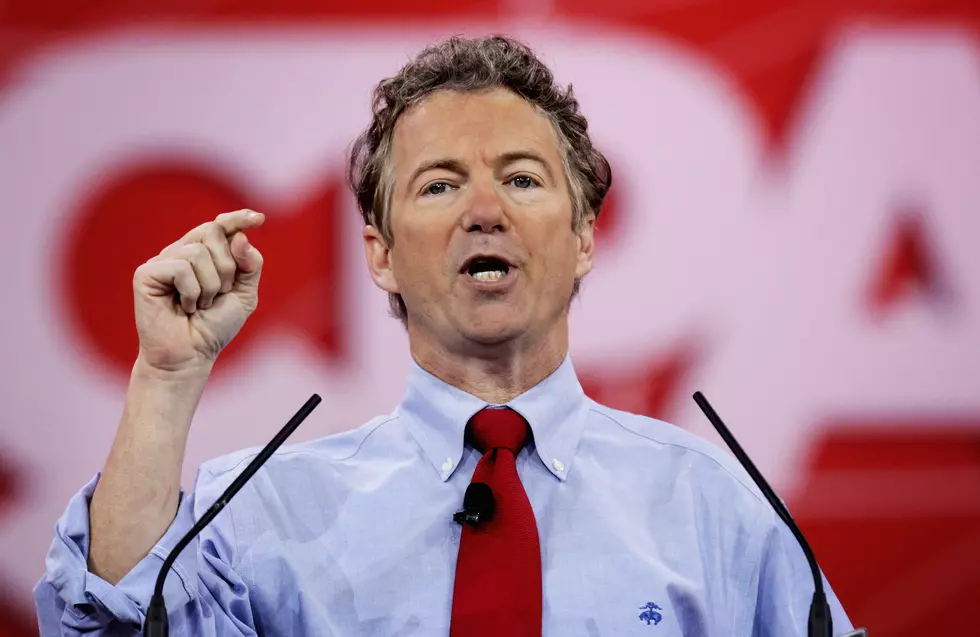 Chad's Morning Brief: Rand Paul Goes After Donald Trump and the Outsiders Rise in the GOP
Alex Wong, Getty Images
Here are some of the issues that will be discussed on today's edition of The Chad Hasty Show.
Rand Paul Goes After Donald Trump
It hasn't been successful for any other candidate, but Senator Rand Paul is hoping to breathe a little life into his campaign by attacking Donald Trump. According to The Hill, the Paul campaign put out a video with some of Donald Trump's past liberal statements.
Sen. Rand Paul's (R-Ky.) campaign on Wednesday released a video highlighting fellow 2016 GOP presidential candidate Donald Trump's past praise of Democrats.

"In many cases I probably identify more as a Democrat," Trump says during a 2004 clip included in the new two-minute Paul video. "It just seems that the economy does better under the Democrats than the Republicans."

"Liberal on healthcare," Trump says in another clip describing his views, adding, "we have to take care of people that are sick."

Trump, who has for weeks stayed atop polls for the Republican presidential nomination, is also seen praising Hillary Clinton, now the Democratic presidential front-runner.

"Hillary Clinton, I think, is a terrific woman," Trump says, noting he has known her and husband Bill Clinton "for years."

The video, which is running as a digital advertisement through the weekend in the early voting states of Iowa and New Hampshire, is backed by a "substantial" ad buy, Paul's campaign told The Hill.

Paul has gone after the celebrity real estate tycoon hard in recent days, hitting Trump as a "fake conservative" and a "bully" after also throwing barbs at him during last week's Republican debate.

"Frankly, it sounds too much like he is someone used to bullying to get his way. What do you do to a bully? You stand up to him. That's what I did on the debate stage, and I was the only one," Paul wrote in an op-ed.
I think it's a fair ad and it shows why many don't trust the Donald Trump of 2015. Still, other candidates have attempted to attack Trump in the past and so far nothing has worked.
Donald Trump, Carly Fiorina, and Dr. Ben Carson. None are career politicians and all three are seeing a rise in their polling numbers. According to The Hill, conservatives are loving these outsider candidates.
 Donald Trump is the GOP front-runner, while businesswoman Carly Fiorina is surging after a strong performance in last week's debate.

Retired neurosurgeon Ben Carson is also showing strength, and is a candidate to watch in the Iowa caucuses, where he is outperforming former Florida Gov. Jeb Bush.

Conservatives are thrilled with the developments.

"This is a paradigm shift," conservative Iowa radio host Steve Deace told The Hill. "The base of the party is in open revolt. We're watching a political party dissolve. It's a civil war and the GOP as it's constructed may not survive."

Others think Republican voters will eventually coalesce around a more traditional GOP candidate — perhaps Bush, Wisconsin Gov. Scott Walker or Sen. Marco Rubio (R-Fla.).

They believe Trump's rise is a product of his celebrity and a media frenzy that will ultimately fizzle. They doubt that Carson and Fiorina will be able to compete in the fundraising fight, or pull together the political operation to make a deep run through the primaries.

But for now, the anti-establishment wing of the GOP is on the upswing.

Fiorina is rising in polls, moving into the top tier of candidates in Iowa and New Hamshire, according to two surveys released this week.

A new survey from Public Policy Polling showed Carson has pulled into a second-place tie in Iowa with Walker, who for months held a big lead over the field in the Hawkeye State. A Suffolk University poll released this week showed voters in Iowa believe Carson matched Rubio as one of the winners in prime-time debate.

Both are embracing their outsider status.

"Change was promised, but people don't see that change ... if Congressional leaders can't produce results, they need to step aside," Fiorina, a former Hewlett-Packard CEO, told Breitbart News in a post-debate interview.
It's a good time to be an outsider in the Republican party, but remember that outsiders have risen before. At one time Herman Cain was leading the Republican field for the 2012 election.
The person I am most excited about in the outsider division is Carly Fiorina. I expect that she will continue to impress.
These and many more topics coming up on today's edition of The Chad Hasty Show. Tune in mornings 8:30-11am on News/Talk 790 KFYO, streaming online at kfyo.com, and now on your iPhone and Android device with the radioPup App. All guest interviews can be heard on our KFYO YouTube page after the show and online at kfyo.com.
More From News/Talk 95.1 & 790 KFYO