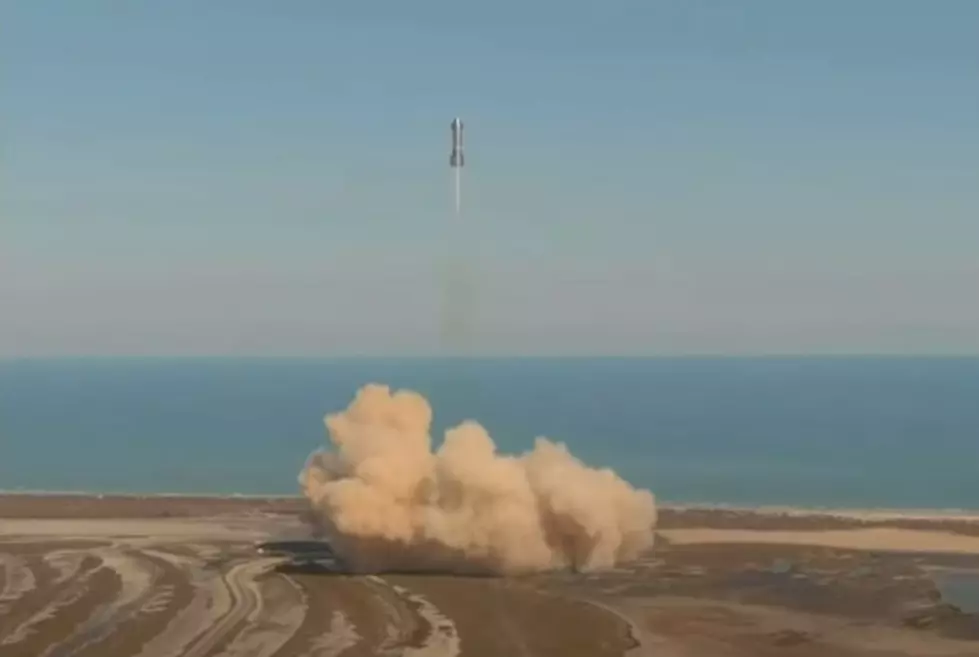 Attention Space Nerds: SpaceX Starship SN10 Flight Scheduled This Week
YouTube LabPadre screenshot
   Update: Sources indicate the launch window has been moved to Wednesday, March 03 through Monday March 08 - Dates have been amended in this article to reflect the change.
Exciting news for all you spaceflight nerds (including myself): Weather and equipment permitting, SpaceX is set for another Starship prototype flight this week, possibly on Wednesday, March 03, 2021.
According to several sources, the next starship prototype SN10 (Serial Number 10) has recently completed static fires of all three Raptor engines, and is nearly ready for launch from the SpaceX testing and launch facility on Boca Chica Beach at the southern tip of Texas.
Local authorities have issued road closure notices, and the FAA has issued TFR's (Temporary Flight Restrictions) effective Wednesday March 3rd through Monday March 8th, all sure signs that a launch is very close.
If the launch of SN10 follows the pattern of previous Starship prototype launches, it will likely occur in the later afternoon, although it could occur earlier, as the TFR for each day is valid from 8:00 A.M until 6:30 P.M. Central Time.
As with SN8 and SN9, this flight is planned for a launch with 3 engines, climbing to about 33,000 feet, with a "belly flop" and maneuvering to land, hopefully, upright back on the pad. Keep your fingers crossed that this flight will end differently than did the SN8 flight and SN9 flight, both of which performed exactly as planned, right up to the high-speed flip back to upright and landing.
Though the SN8 and SN9 flights both ended in "RUD"s (Rapid Unplanned Disassembly, commonly known as huge explosions on the pad), they were both truly remarkable feats, landing almost precisely where intended, and have provided SpaceX with data needed for engineering corrections.
Much of the media tries hard to paint, tabloid-style, these crashes in a negative light, but SpaceX is a private enterprise, unencumbered by government bureaucracy, and works from a test, monitor and gather data, correct, and test again philosophy.
Already waiting for their turn at test flights, in various stages of completion, are SN11, SN12, SN13, SN14, SN15, as well as the Super Heavy Booster, which will eventually use thirty or so Raptor engines to lift the Starship itself to orbit.
Live updates and streaming video is available at the following excellent YouTube locations:
LabPadre NerdleCam
NASASpaceflight.com

More information, as well as live coverage of the launch should also be available on the SpaceX Starship page (this location normally starts streaming only a few minutes before launch), and they normally begin a live stream on the SpaceX YouTube channel about 10-15 minutes prior to a launch.
Hope you enjoy the launch!
Be sure to tune in for The Chad Hasty Show airing weekday mornings live, from 8:30 to 11:00 A.M. on News/Talk 95.1 FM and 790 AM KFYO, as well as from 5:00 to 7:00 P.M. every weekday evening on the Texas Townsquare Media Network. You may also listen to the show live online at KFYO.com, on the fantastic, free and easy to use KFYO App, all Alexa-enabled devices using the KFYO Skill, as well as on Google Home devices. You may follow Chad on Twitter: @ChadHastyRadio, Instagram: instagram.com/chadhastyradio, Snapchat: @ChadHastyRadio. Much more information about Hasty, as well as his extra-show content and commentary may be found at kfyo.com/author/chadhasty. Be sure to tune in daily to KFYO and check our website for the latest news and commentary, follow KFYO Radio on Twitter: @KFYO, and subscribe to KFYO's YouTube channel. 
12 Things You Didn't Know About Texas Tech's Masked Rider
12 Random Masked Rider Facts
Must-Watch Streaming Horror Movies
Must-Watch Streaming Horror Movies
Lubbock's Epic $2 Million Dollar Home Has an Indoor Basketball Court
Lubbock's Epic $2 Million Dollar Home Has an Indoor Basketball Court
More From News/Talk 95.1 & 790 KFYO