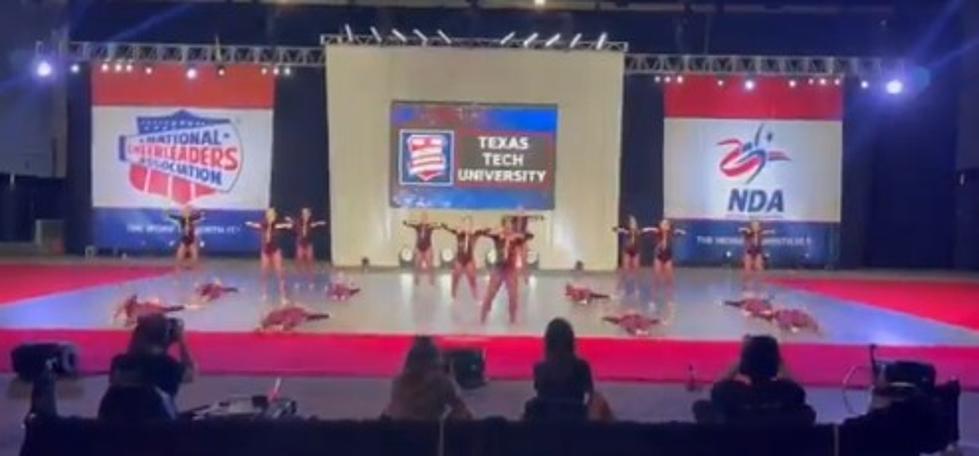 Watch 2 of Texas Tech's 4 National Championships From This Weekend
twitter.com via ttu pom
As previously reported, Texas Tech's Mascot Raider Red now has more National Championships than Chris Beard.
The National Championship was won by Raider Red buzzing through a Toy Story-themed skit that featured slinky dog, the RC car, and Tik-Tok dances along with the 2019 NCAA Tournament theme for Texas Tech Old Town Road. The skit was judged based on characterization, skit creativity, crowd leading, dance, prop effectiveness, and overall performance.
The Toy Story theme was carried throughout and most brilliantly displayed in the final seconds, watch the whole skit here:
Just a brilliant move to have ANDY written on the boot.
Not only did Raider Red win the National Championship, but the Texas Tech Pom squad also won two for themselves. The Pom squad won for the jazz dance featured below and also for pom dance. Now, I'm not a dance expert, but two National Championships in one weekend sounds pretty dadgum good.
To be even more honest, I'm totally relying on the crowd to know when something good happens and I'm still getting hyped watching this video back.
Also competing this weekend was the Texas Tech cheer squad who came in second place.
If Raider Red and the Pom Squad locking in a National Championships wasn't enough, the Texas Tech wool judging program also won a Title this weekend and also played third in the event. That's right, on the wool judging podium this weekend Texas Tech had a team at the top, then Texas A&M had a team, then Texas Tech had a second team. Our friends at Angelo State came in third which is in a small way another victory for Texas Tech.
More From News/Talk 95.1 & 790 KFYO