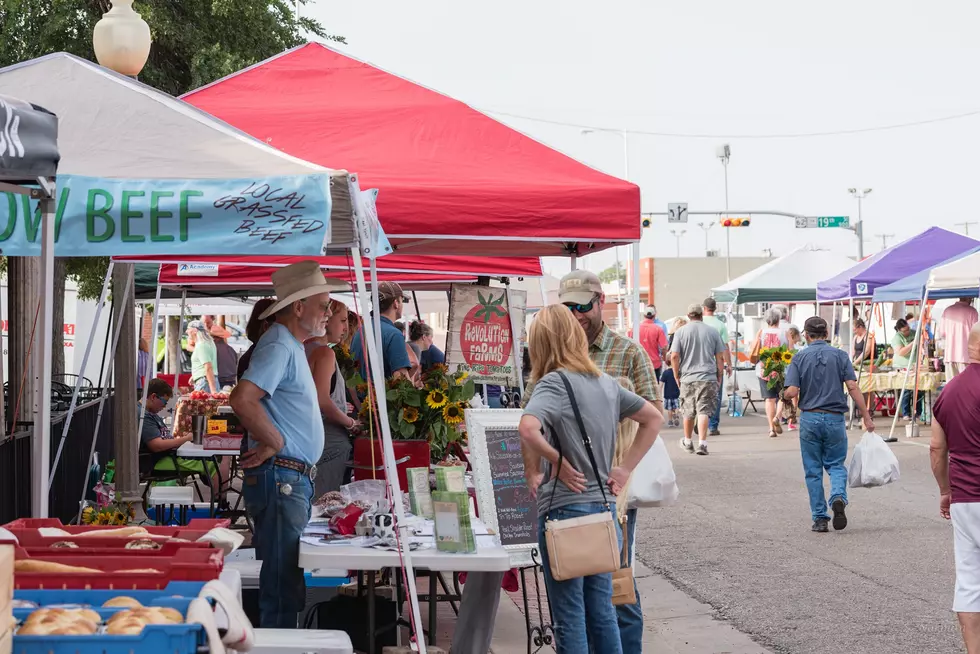 Lubbock's Downtown Farmers Market Opens Saturday Morning
Lubbock Downtown Farmers Market via Facebook
I really love the community and the experience of the Lubbock Downtown Farmers Market.
Do yourself a favor and make it a point to visit the Lubbock Downtown Farmers Market this year. You'll find the gang at 19th and Buddy Holly Avenue from 9 a.m. to 1 p.m. starting May 28th, 2022 and going through mid-October. Attending earlier is always better because some items do run out.
As you'll see below, this farmer's market isn't just vegetables; you'll also find food trucks, crafts and a whole heck of a lot more.
Here's the vendor listing from their Facebook page:
Confirmed Vendor's for the May 28th Farmer's Market!
Klawiter House - Several flavors of macarons, small pies, gourmet Rice Krispie treats, quick bread muffins
Bondi Bowls - Lubbock Food truck, Acai bowls, fresh lemonade, shaved ice
Onion Shed - FarmsDuck eggs, Garlic Salt, Jalapeno Salt, Sriracha Salt, Chili Lime finishing salt, Lemon Pepper finishing salt, Few Squash, beets, turnips, Pecans, All locally grown.
Gold Stripe Coffee Roasters - Locally roasted coffee bags, hot and cold brew beverages
Boxburner's Creative Acres - Mixed flowers in decorative pots ready for your patio. Shade and sun choices. Vegetable plants, Aloe Vera plants, New meringue treats! Juju melts. Sweet treat with very few calories. Several flavor choices. Can't wait to see you!!!!
Sun Spice - Sun spice sweet & spicy hot sauce
Farmer Matt's Food Co - Fermented Hot Sauces, Mustard, Relishes, and Veg.
A&A Desserts - Mediterranean desserts
Happy Hens - Multicolored farm eggs
E3 Farms - Roots, Microgreens, Salad Greens, Mushrooms, Honey, Herb Infused Olive Oils, Microgreen Grow Kits, Mushroom Grow Kits, Mushroom Extracts
Short and Sweets Bakery - Almond Vanilla Decorated Cookies, a wide variety of Macarons, and traditional cookies.
Mama Made That Crafts & Creations - Vinyl T shirts, keychains, faux leather initials, Decals, horseshoe crosses, Door hangers, faux leather bows & earrings.
Quail Feather Farms - Organically grown seasonal vegetables-radishes, mustard greens, turnips, onions, leeks, arugula, Swiss chard, kale and herbs!
High Plains Gardens Plants -tomatoes, peppers, some herbs, succulents, Texas natives. Glass flowers, painted rocks, barbed wire wreaths
KJs Paracord Workshop - Paracord Bracelets, Necklaces and Chokers, and Unique Beaded Bracelets. Dreamcatchers! Scorpion Resin Art (limited). Bracelets sized for children. I also take custom orders. Stop by my Booth and try something on!
Holy Cow Beef - Holy Cow Beef offers a cornucopia of different clean proteins, including our American Grassfed Association (AGA) Certified, Grassfed/Grass Finished Angus Beef, plus clean Chicken and Pork at affordable prices. All clean proteins are raised without added hormones, without the use of antibiotics, pesticides and herbicides. We pride ourselves in providing high-quality Texas products and offer a 100% quality guarantee on all items.
London Blue Accessories - handmade jewelry and accessories
Flatcity Farms - Fresh, Lubbock-grown flower bouquets, handmade pressed flower artwork, hats, canvas totes, and more!
Cute As Hell - Colorful, cute, and sometimes creepy art prints, stickers, keychains, magnets, and more!
Becky Helmer Designs - Handmade flower earrings
Thistle and Rabbler - Handmade small batch polymer clay earrings and reversible pet bandanas
Foxling & Fae - We will be offering a wide range of eclectic, artisan, loose-leaf teas, vintage tea ware, hand-dipped beeswax candles and apothecary products.
Circle JM Farms - Freeze Dried Foods, including fruits, veggies, candy and our meal packs.
Witch Bag - Totes, Frame Bags and Needful Things Bags
West Texas Beard Co - Holly Lambert Beard care products and men's and women's fragrances, soaps
Adelphos Cellars - Our award-winning Texas handcrafted wines, made and bottled at our winery production facility in northeast Lubbock County, from our own estate-grown grapes and grapes from other High Plains growers.
Clean Day's Soap Co. - Soap, lotion, salve, herbal tea, and lavender pillows
Block 20 Produce - freshly pulled onions and beets, creamed honey, jelly
Blonde's Salsa - Charro beans, salsa, pickles, bbq sauce, jams and jellies, relishes, brisket queso, and more.
K's Crafts - A variety of fun resin earrings that come in different sizes, shapes, and colors, handmade bracelets, crochet scrunchies, crochet strawberry keychains, crochet octopi plushies, and more!!!
Tall Cotton Kettle Corn - Kettle Corn and various flavored popcorns
Plain and Seasoned Pork Rinds
Fanatical Farms - Sunflower, pea, Radish, Kale, basil and Broccoli microgreens
Johnny G's Salsa Co. LLC - Salsa! Anything from Mild to Wild! Salsa Verde-Mild heat, Salsa Rojo-Medium heat, Salsa Tatemada-Hot, Full Send-Super Hot
Sweet Pup Co - Handmade Pet Accessories, dog treats, dog ice cream, dog bandanas
dog collars, dog leashes
Paul Bullock PBNB International - a children's books and merchandise related to the books.
Deb's Design - customized tumblers, drinkwear, beaded pens
Plain Jane's Fried Pies - Fried pies
Get out and trade money with your community members. You never know what kind of great stuff you'll find at the Lubbock Downtown Farmers Market.
The Best of the 2022 Lubbock Arts Festival
24 Lubbock Restaurants That Locals Totally Crave
Looking for a must-try restaurant in Lubbock? You've come to the right place.
More From News/Talk 95.1 & 790 KFYO