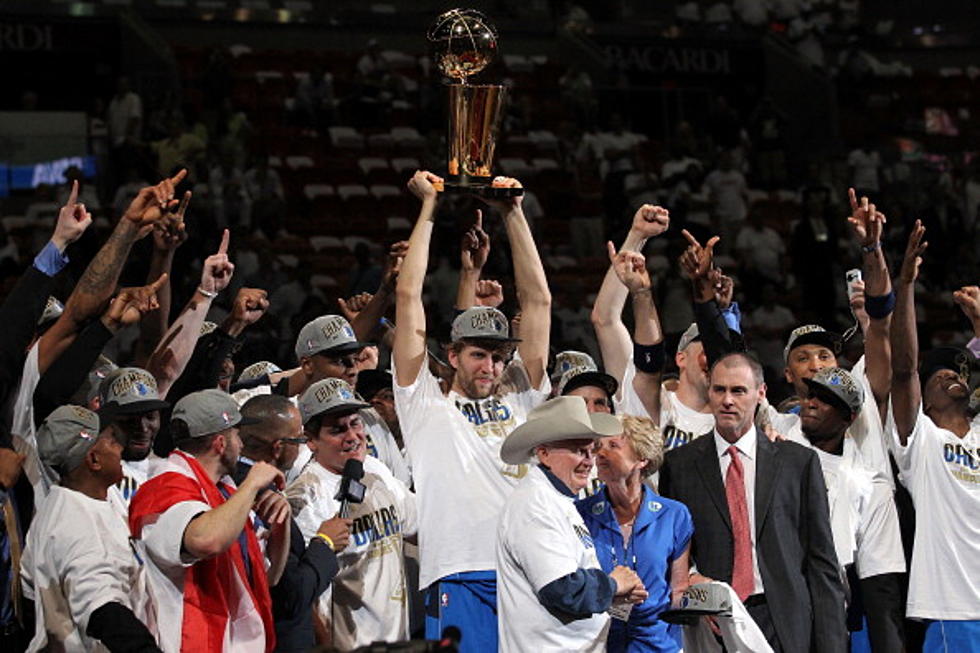 Dallas Mavericks Have Another Big 4th Quarter to Defeat Miami Heat and Win 2011 NBA Championship
Ronald Martinez, Getty Images
Dirk Nowitzki didn't play his best game of the finals but he didn't need to as the Dallas Mavericks finally got revenge for 2006 and defeated the Miami Heat, 105-95,  to win the NBA Championship.
The Dallas Mavericks did what most thought impossible. The Dallas Mavericks are NBA Champions.
I'll let that sink in a bit...
People thought the big 3 of Miami were too fast, too good, too athletic, too strong for the old Mavs, but I guess they weren't. The Mavericks proved teamwork, practice and dedication can win championships over raw talent.
Dirk Nowitzki had 21 points but shot his worst game of the playoffs (9 of 27) but that didn't matter. Dirk got big help from bench player Jet Terry who led all scorers with 27  followed by J.J. Barea with 17 and Shawn Marion with 12.
The Mavericks led most of the game and controlled most of the 2nd half despite only attempting 22 free throws to the Heat  33.
It was once again the 4th quarter that decided the series. The Mavericks veteran leadership of Jason Kidd, 38, Nowitzki, 32, and Jason Terry, 33,  showed one final time on the court as the Mavs scored 24 points and scored several big 3's to stem the Heat storm. Dirk scored double digits once again in the 4th while LeBron James once again disappeared only scoring 4 points.
The Mavericks lived by the 3 in the last 2 games to win the finals. The Mavs sinked 13 3's in game 5 and 11 3's in game 6 to win it all. Most were due in large part to J.J. Barea and Terry who finally got hot and combined for 11 of the 24 3's in game 5 and 6.
The Heat were terrible from the charity stripe where they were 20 of 33 (61%) and Dwyane Wade and James were a combined 1 of 8. The Mavs weren't much better going only 12 for 18 (66%) but they didn't need the free points as badly as the Heat.
As soon as the game ended Nowitzki was no where to be found. Dirk had left the court and journeyed to the locker room to collect himself before returning to the court for the post game ceremony.
It should come as no surprise Dirk Nowitzki is the series MVP. Dirk averaged over 28 points per game and nearly 10 rebounds per game for this series. Dirk praised his teammates after the game for carrying during the game.
Future first ballot hall of famers and 2 of the greatest players in NBA history, Nowitzki and Kidd, finally get their rings. When asked after the game how much longer Kidd feels he will play he said he feels like he still has a few years left in him with this team.
More From News/Talk 95.1 & 790 KFYO