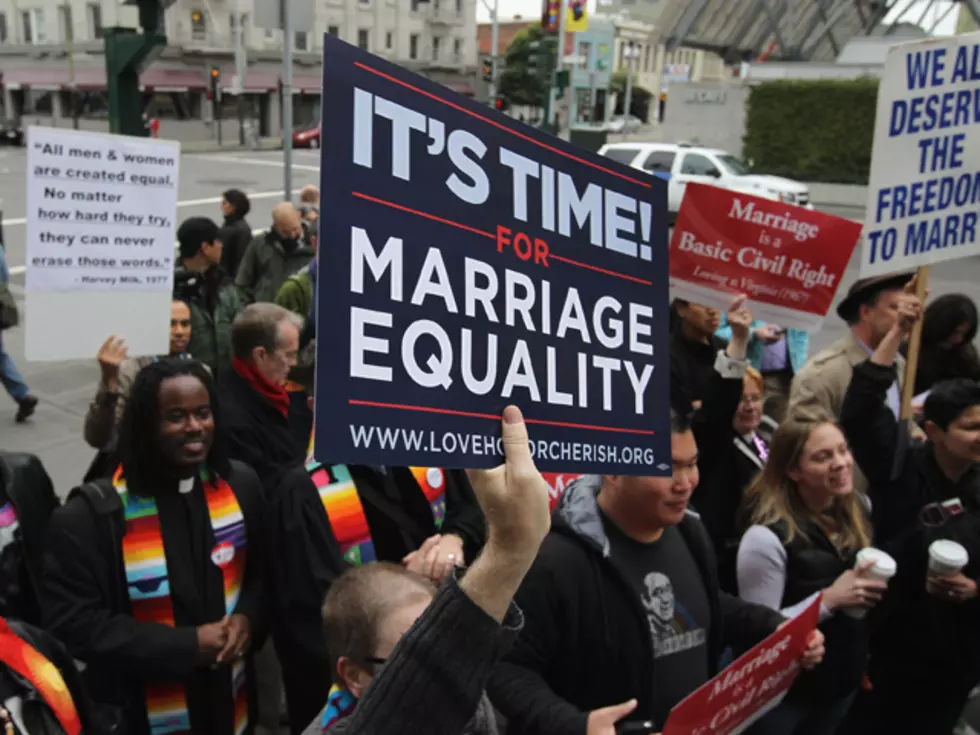 Chad's Morning Brief: Nearly Half of all Americans Support Gay Marriage, Martin O'Malley Rising in Some Democratic Circles, and Other Top Stories
Justin Sullivan, Getty Images
Here is your Morning Brief for April 28, 2015.
According to a new FOX News poll, 48% of Americans support gay marriage while 44% oppose it. Not surprisingly, divisions over gay marriage are both political and generational.
Just 32 percent of voters said gays should be allowed to marry legally when the question was first asked on a Fox News poll in 2003 (58 percent were opposed).  Since 2012, the portion favoring it has been between 42 and 49 percent.

Democrats favor it by a wide 62-32 percent margin.  That's the opposite of how Republicans feel:  31 percent favor vs. 57 percent oppose.  Independents favor it by a 51-43 percent margin.

Sixty percent of voters ages 65 and over oppose it, while 61 percent of those under 45 are in favor.
In the poll, FOX also found out that 51% of Americans support the legalization of marijuana.
It should surprise no one that Americans are split on the issue of gay marriage. In the years to come, support for gay marriage will increase though. However if we keep seeing bakers, photographers, event planners, etc. sued because they didn't want to take part in a gay wedding, then I think the number of people who back gay marriage could slow.
The fact that nearly half the country backs gay marriage also tells me that the Supreme Court will rule in favor of gay marriage.
Could Democrats throw Hillary under the bus as her campaign continues to take damage? According to Roll Call, progressives could favor Martin O'Malley over Clinton.
For all her recent efforts to prove her progressive credentials to Democratic primary voters and caucus participants, former Secretary of State Hillary Rodham Clinton has not made those on her party's left entirely comfortable with her. And she never will.

Because of that, a credible alternative would have the capacity to rally progressive Democrats behind a challenge to the former first lady, possibly even creating an entertaining skirmish or two.

The only question right now is if a serious contender will emerge. Not everyone, after all, would be equally capable of galvanizing anti-Hillary sentiment within the Democratic Party.

At first glance, the idea of a backbencher mounting even a moderately interesting challenge to Clinton is preposterous. After all, she will have the deepest war chest in history, begins with a lengthy résumé of accomplishments, has a flood of endorsements and institutional support, and holds the "first woman president" card in her hand.

But Clinton has as much chance of convincing Democratic progressives she is truly one of them as Mitt Romney had of convincing tea party conservatives and evangelicals he shared their values and views. That is: zero chance.

There is simply too much suspicion of Clinton on the left — and too much history to allow progressives to embrace her completely before they must.
I still find it hard to believe that O'Malley could defeat Hillary Clinton, but if her problems continue to mount, it is possible that Democrats will look to someone else. Do liberals trust Hillary Clinton? Probably not, but a lot of people don't trust her. I still believe that she will win the media over despite her scandals.
These and many more topics coming up on today's edition of The Chad Hasty Show. Tune in mornings 8:30-11am on News/Talk 790 KFYO, streaming online at kfyo.com, and now on your iPhone and Android device with the radioPup App. All guest interviews can be heard on our KFYO YouTube page after the show and online at kfyo.com.
More From News/Talk 95.1 & 790 KFYO