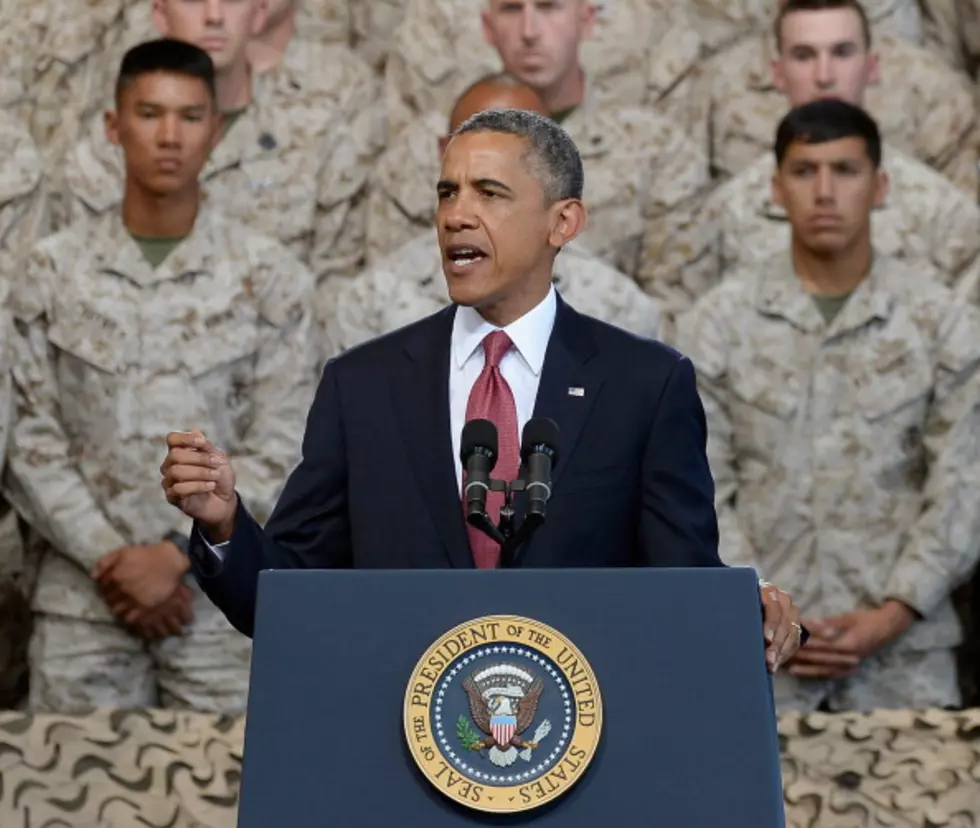 Chad's Morning Brief: Concerns Grow Over Possible Attack on U.S. Military Members, Other Texas Towns Could Join Denton in Banning Fracking, and Other Top Stories
Kevork Djansezian, Getty Images
ISIS continues to pose a threat to the United States. Here is your Morning Brief for December 2, 2014.
Feds Warn Members of the Military
According to FOX News, officials are telling members of the U.S. Military to scrub their social media profiles of any information that could be used by ISIS Terrorists.
The warning was sent Sunday in a joint bulletin by the FBI and Department of Homeland Security, law enforcement and homeland security sources confirmed to Fox News.

The bulletin said the FBI had information suggesting "individuals overseas are spotting and assessing like-minded individuals who are willing and capable of conducting attacks against current and former U.S.-based members of the United States military."

The agencies expressed concern about attacks similar to those in Canada in which two uniformed soldiers were killed in separate incidents by purported followers of the Islamic State, also known as ISIL and ISIS. The attacks appeared to have been planned with online information and no direct contact with Islamic State leaders, who already have urged Muslims in the U.S. and Europe to attack service members.

In October, the U.S. government issued two similar warnings, as reported by Fox News.

The Army first issued a bulletin after Islamic State militants called on supporters to scour social media for addresses of U.S. military personnel and to "show up [at their homes] and slaughter them."

And the Pentagon warned employees about being a target for potential, quick-strike terror attacks. The advisory told employees to take such precautions as changing travel routes, removing identifiable logos and not posting anything online that would link them to the Defense Department.
Other Texas Towns Consider Options Against Fracking
Denton, Texas was the first city to ban fracking. According to the Dallas Morning News, other Texas towns may join them.
The land office, now headed by George P. Bush, a grandson and nephew of two former presidents, owns 13 million acres of land and mineral rights throughout Texas, including in Denton. It has joined an industry group seeking an injunction to stop the fracking ban from taking effect.

Bush is the managing partner of a fund that invests in oil and gas, and he trumpeted the economic benefits of fracking throughout his election campaign. A spokesman declined requests for an interview, deferring to the Railroad Commission.

The industry association's attorney, Tom Phillips, told The Associated Press that Denton's ban violates a state law that says mineral resources must "be fully and effectively exploited."

Denton's city council has pledged to defend its ban, and other cities have taken note.

"Regulation doesn't work very well in the state of Texas because the Railroad Commission doesn't work on the public's behalf," said Dan Dowdey, an anti-fracking advocate in Alpine, a college town a few hours from two major shale formations, the Permian Basin and Eagle Ford. Dowdey and others are calling for Alpine's city commission to ban fracking — even though the closest drilling is more than 100 miles away.

"We're familiar with what the oil and gas industry can do to an area, and it's not real pretty and it smells bad," Dowdey added.

Residents of Presidio, a border town southwest of Alpine, want municipal leaders to protect their water source from being tainted by exploratory fracking wells in Mexico, said Pat Simms, who sits on a Presidio County water conservation board.

Texas hired its first seismologist to investigate any link between quakes and fracking after Stokes led a group of residents from Reno and Azle to Austin to ask the Railroad Commission to halt the drilling. She said the seismologist, Craig Pearson, later told her it would be impossible to definitively link the two. Pearson did not return calls seeking comment.

Reno resident Barbara Brown shows sinkholes on her property and faint cracks on her front steps and above the door, which she blames on fracking. Brown and her family retreated to the Azle-Reno area from Houston in 2005, but are now considering moving somewhere without drilling.
I believe Denton's ban on fracking will be overturned, but that won't stop other Texas towns from at least exploring a ban. Many of these towns will do so without much input from the citizens.
These and many more topics coming up on today's edition of The Chad Hasty Show. Tune in mornings 8:30-11am on News/Talk 790 KFYO, streaming online at kfyo.com, and now on your iPhone and Android device with the radioPup App. All guest interviews can be heard on our KFYO YouTube page after the show and online at kfyo.com.
More From News/Talk 95.1 & 790 KFYO